With Service Not Self in mind, American Legion Auxiliary district presidents choose a special project to accomplish during their leadership term. Iowa's Fifth District Auxiliary President Jacki Bolen from Deep River Unit 296 wanted to do a unique project that would truly make a difference in the lives of veterans in her community. A nonprofit veterans organization called HERO — Healing at the English River Outfitters — really spoke to her.

"I wanted to give to a different type of organization, so I reached out to HERO," said Bolen. "I love their mission — everything they do is through outdoor therapy, and I honestly thought that was amazing."

Like many of us, HERO believes there can be healing in nature. They encourage veterans to participate in a special outdoor experience where they can fish, hunt, and hike. Their purpose is to offer a variety of therapeutic, group-based activities designed to foster confidence, hope, and health.

"As civilians, we have no idea what these veterans have gone through," said Unit 296 member Ellen Zimmerman. "It's amazing to have a place in our state that people can go to get help, and not have to go into a medical facility."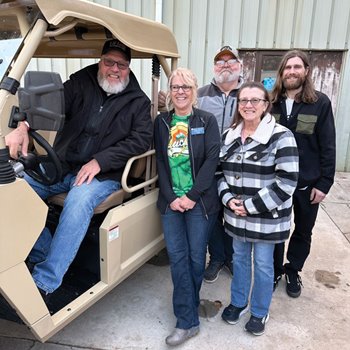 Bolen reached out to the HERO group to discuss their needs, and it was clear that they desperately needed a side-by-side vehicle to transport disabled veterans and conduct maintenance on the grounds. After looking into it, the vehicle would cost $14,000. Bolen knew this would be a big project to raise funds for, but she was determined to make it happen.

"To prove it can be done, you must believe in yourself and the people helping you," said Bolen. "You also have to realize that ordinary people can do extraordinary things, especially if the project is worth it."

Bolen knew she would be able to get a lot more volunteer help and donors by doing an event-type of fundraiser.

The HERO night event took place on St. Patrick's Day at the Deep River Community Center. Members from the entire American Legion Family came to help. They provided guests with a themed meal of corned beef and cabbage. Throughout the night, people were able to make donations and participate in raffle items. The district secured two bands to perform as an extra entertainment element. Then the live auction started, which is what really brought in the donations.

The HERO event fundraiser exceeded all expectations. They surpassed their goal of $14,000 and raised closer to $30,000. Bolen and district five purchased the side-by-side vehicle for the HERO group and spent the extra money on accessories for it like a backseat that fits inside the dump trailer, along with gun racks and fishing pole racks.

"It was just amazing the way people came together to help make this happen," said Bolen.