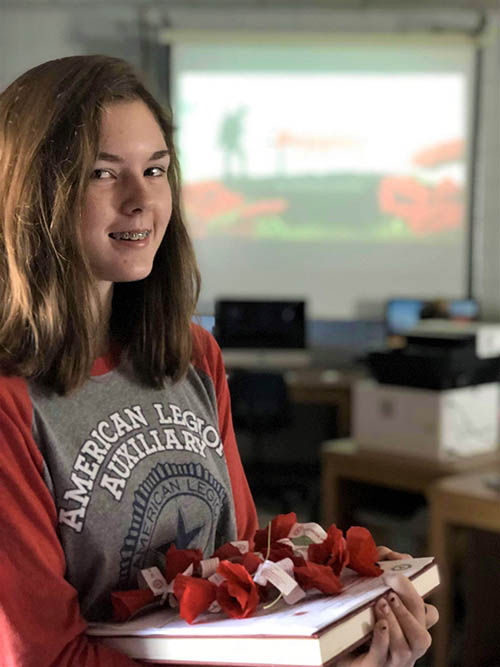 Ashlynne Jenkins, 16, has been an American Legion Auxiliary Junior member for the past six years, after being introduced to the organization by her grandmother. Being a member of the ALA has helped open Ashlynne's eyes to the sacrifices of our nation's heroes, as well as inspiring her to act.
"Ever since I joined, my heart has become larger, filled with so much love for these men and women, and I plan to continue to give out this love for as long as I can," she said.
Ashlynne began volunteering at various events and programs upon joining the Auxiliary. One of her favorites is the ALA Poppy Program. Ashlynne has also volunteered during the holidays, which happens to be one of her favorite memories.
"I went with my mother and one other Auxiliary member to give Christmas care packages to the local VA. Our purpose with these packages was to hand them out to veterans who do not have families to buy them gifts or to just sit and talk to. So with these care packages, we showed that they have many people who care about them," she shared.
Ashlynne's drive to serve would not stop there. She began fundraising for the ALA Children of Warriors National Presidents' Scholarship, with the goal of assisting young students going to college.
She raised funds by setting up donation banks around her town, conversing with community leaders, and even utilizing a "donation pig." One of her memorable moments is fundraising at an ALA state convention in Little Rock, Ark.
"We had the donation pig set up on its own table, and when everyone found out what it was for, there was automatically a line for donations. It was incredibly encouraging, and I am very grateful for all who donated," she said.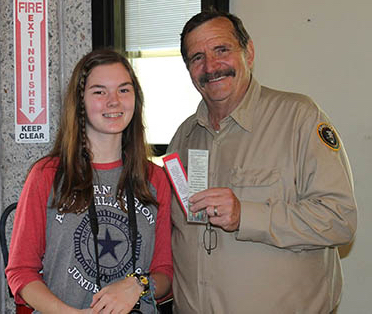 Veteran Ron Key holds a handmade bookmark from Ashlynne. Even now, Ashlynne looks to impact young students further, with plans to reach out to surrounding communities and organizations, as well as encourage her fellow ALA Junior members to fundraise.
Ashlynne continues to fundraise and change the lives of veterans, military, and their families, knowing that every donation makes an impact – no matter how big or how small.
"In the end," she said, "receiving just a penny would be enough to help our cause."
Please, click here to give your best possible gift to the American Legion Auxiliary. One hundred percent of it will go to our mission programs. Just like Ashlynne said: Even "just a penny" will have an impact.