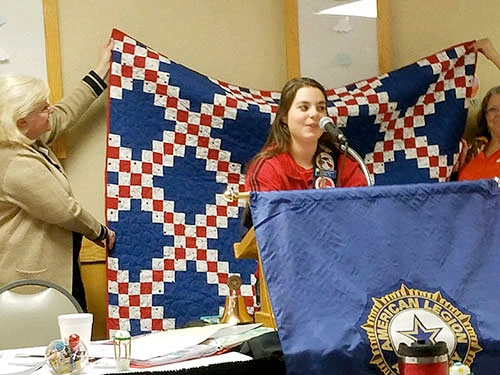 Somerfeld and the quilt she made for a raffle.
Guest blog by Junior member Jersey Somerfeld, Mills Paulus Unit 103, Montana
At the Department of Montana Convention, we had several Junior members in attendance and my grandma became the Junior Activities Program chair to try to get the program restarted. There was no money budgeted for the Junior Activities program.
On the way home from the convention, she and I were discussing what we could do for a fundraiser for the Junior Activities. We decided to make a patriotic quilt for a raffle. I had made and donated three over-sized twin patriotic quilts to a veterans transition home and I still had a lot of material left. When the residents leave the home, they get to take their bed quilt with them.
We chose a Double Irish Chain pattern. I was able to get a 4-H member and three 4-H leaders to get this done in a week to have it ready for the Fall Conference and our district meetings. I did the quilting and the hand sewing of the binding.
I made 125 raffle tickets and sold them for $5 each. We made $520 on the quilt to support our Junior Activities program. There was a twist — the winner of the quilt needed to donate it to a veterans home in Montana in their name. The winner, who was a Past Department President, designated the Grace Home for Veterans to receive the quilt.
We delivered the quilt and the residents were so excited that I had made another beautiful quilt for them. They really deserve to be remembered!
In addition to this quilting project, I've also completed a lap robe project.
Butte, Mont. is building a veterans home and I thought they could use lap robes for the residents. My idea was being able to do quite a few in a short time. I had plenty of patriotic fabric left from my other projects to use.
I asked a Thrivent member to sponsor me and I had to fill out an application and explain what I wanted to do with the $250 Thrivent grant to purchase cotton batting, heavy flannel, and quality thread. My request was approved. I received the debit card and purchased everything online with a nice coupon I had. When was done, I had $7.59 left on the card.
All the flannel and fabric were washed, dried, and pressed beforehand. The lap robes measure 36" x 44" or 36" x 45".
My 4-H quilting family is very supportive of our American Legion and Auxiliary. I set up a work date the first weekend in March and planned a lunch. My goal was to get 25 lap robes sewn together. There was a conflict and only three quilters were able to sew. There were five leaders that were able to help with the measuring, cutting, pressing, and pinning. We started at 9:30 a.m. and quit at 5 p.m.
The plan was to use the quilting machine to quilt all of the lap robes — quilting holds them together better and they will hold up better washing them. Before the lap robes could be quilted, the COVID-19 pandemic occurred, and it wasn't until the end of April when I was able to go and quilt all the lap robes.
When I was finished with making the lap robes, I needed to do a report to Thrivent on what was accomplished and a summary of how much was spent, how many volunteer helpers, and if my goals were met. I also sent thank you cards to everyone involved.
I was going to the Department Convention to deliver the lap robes, but it was canceled so I will be taking them to the Fall Conference to distribute them there. I have heard the new veterans home is excited to be getting this donation of quilted lap robes!