Guest blog by Membership Chairman Diane Rapport and Recruiter Bea Brunner of California Unit 472
Two lady friends of the recruiter were 'asked' and agreed to join their Auxiliary unit. One turned 96 last March and the other turned 90 this September. Both of their spouses served in the U.S. Navy in World War II. Each has a lifetime of military stories they share.
Sandy Revella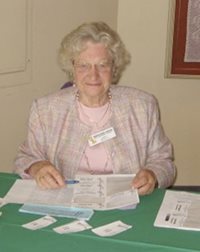 She retired from her bowling league a couple years ago, gave up driving in January 2019, and gave her car to her sister in Florida. She has been an active participant in a unit of the National Association of Parliamentarians (NAP) for 36 years, the group that studies and practices Robert's Rules of Order Newly Revised (RONR), and can still hold a healthy conversation about any of her experiences.
Her daughter and son-in-law take her to the Wednesday dinners at their local American Legion post. Sandy is very patriotic. Her newly replaced flag briskly flies on the tall pole right outside her front door; and she's an avid Padres baseball fan (don't call her when a ball game is on TV).
Joanne 'Joedy' Adams
The younger new member, Adams, has a lot of patriotic and military history in her life. She is an amazing example of living history. As a military child Pearl Harbor survivor, she is a member of the 'Sons and Daughters of Pearl Harbor Survivors' and membership chairman and parliamentarian for the 'Pearl Harbor Survivors' Carnation Chapter 3, San Diego and participates at various events, including the San Diego County Veterans Day Parade. As a member of the Daughters of the American Revolution (DAR), she proudly relays her heritage to Carter Braxton, signer of the Declaration of Independence, as well as heritage to Presidents William H. Harrison and John Tyler. Her father, Rear Admiral Joseph C. Cronin, was at and is in the photo of Fleet Admiral Chester W. Nimitz signing the surrender of Japan aboard USS Missouri in Tokyo Bay.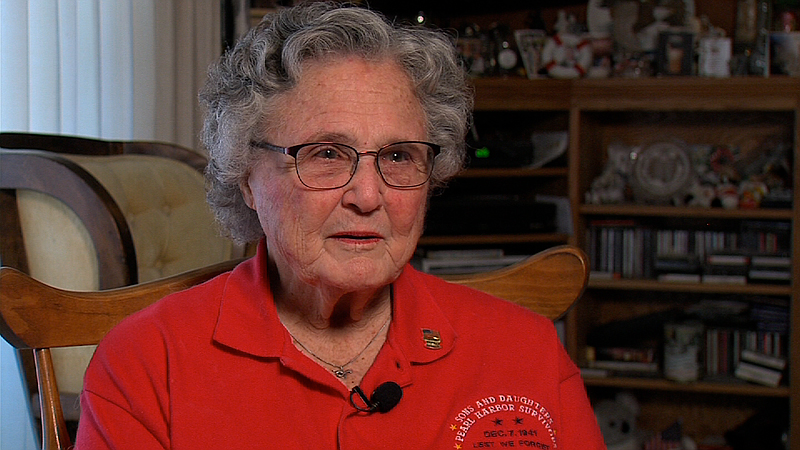 Joanne "Joedy" Adams, 86, a child survivor of the attack on Pearl Harbor, shares her memory of the horrific day, Dec. 2, 2015.
Photo by Nicholas McVicker
Her husband, Frank, joined The American Legion, Department of California's Post 1000, and sadly after six years of membership, passed away in 2002. She didn't join the Auxiliary because she felt she didn't have anywhere to go.
She too has been an active member in a unit of the National Association of Parliamentarians; and during the past year, gave a presentation about The American's Creed and its author, William Tyler Page, her grandfather.
In extending patriotic education, Joedy talks to sixth grade classes about her Pearl Harbor experience on the day of the Dec. 7, 1941 attack. A lot of them have no clue about our history she says, and that her history lesson is simple for them — to have patriotism, loyalty to their country, and respect to those who fight for their freedom.
Our recruiter is a 30-plus year PUFL member of our organization, has served as president of two units and as district president, was California Auxiliary's Unit Member of the Year 1987, and was recipient of the National President's Excellence Award for Poppy. The membership chairman, striving to meet the unit goal, is also the unit treasurer and one of three daughters of Past National President Josie Melgard.
Remember… Just Ask