Over the past year, everyone has spent more time at home, and many have spent a lot more time online shopping on platforms like Amazon. Nearly 3,600 American Legion Auxiliary supporters have turned those online purchases into donations for the ALA Foundation through AmazonSmile.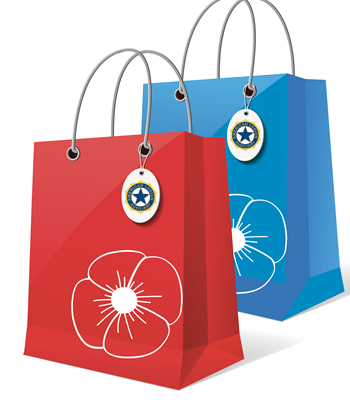 AmazonSmile is Amazon's way of giving back – they give 0.5% of eligible purchases to nonprofit organizations when their customers select the organization they wish to support. That may not seem like a lot, but since 2014, just 3,594 people have raised $18,996.47 in support of our veterans, military, and their families by simply using this link to shop on Amazon.

"My personal philosophy is this — we have many members who come from different backgrounds," said ALA Foundation Board of Directors Secretary/Treasurer Terri Wallace.

"Some come from well-to-do families and can give big sums to the American Legion Auxiliary Foundation," Terri said. "On the opposite side, some people cannot, so they give their time."

In a time when money can be tight and traditional donations may be a harder stretch, AmazonSmile is a perfect way to get your everyday necessities while still making an impact for the causes you hold most dear. In 2020, over $6,000 was gifted to the ALA Foundation – at no extra cost to ALA shoppers.

"If you're already using Amazon, you're not going to have to spend any more money to make a contribution to the ALA Foundation. With AmazonSmile, the money you're spending on purchases is just redirected to the American Legion Auxiliary Foundation," Terri said.

That money has helped young women experience a week of growth in leadership and government knowledge at ALA Girls Nation, has supported veterans' mental health through the use of art therapy at the National Veterans Creative Arts Festival, and has given our nation's heroes hope and opportunities for a better future.

Imagine the impact that could be made on our veterans if all 600,000 ALA members took just a few seconds to select the ALA Foundation before making their online Amazon purchases.

Learn more about AmazonSmile and start making your purchases matter at ALAFoundation.org/AmazonSmile.