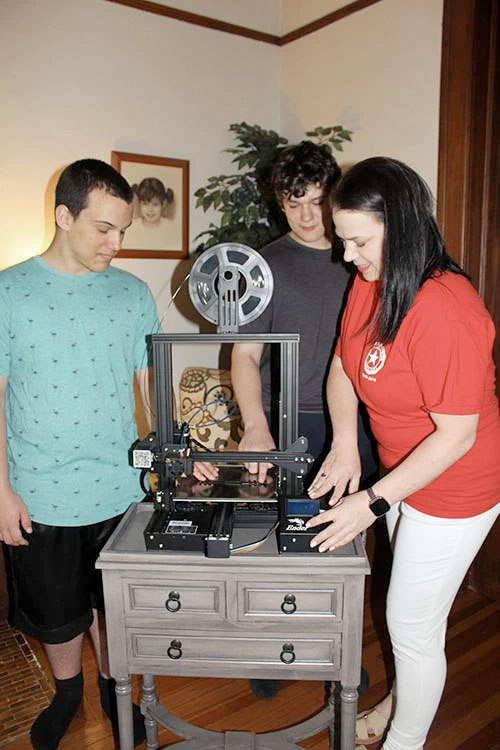 CREATIVITY FOR A CAUSE: Evan (left), Ryan, and Jamie McGuire make hundreds of ear guards with their 3D printer to relieve discomfort for healthcare and essential workers wearing masks.
American Legion Auxiliary members are broadening their service to veterans by helping essential workers and our health care heroes stay safe during the COVID-19 pandemic. Service Not Self is exhibited now, more than ever, with members doubling their volunteer service by making masks, donating blood, creating ear protectors, and so much more while also serving veterans. Jamie McGuire, president of Sackets Harbor Unit 583 in New York, and her two teenage boys, are distributing ear guards to health care workers and other essential personnel who may need extra comfort.
McGuire bought her two sons, Evan and Ryan, both Sons of The American Legion Squadron 583 members, a 3D printer as their big Christmas and Hanukkah present, hoping it would spark creativity.
"I was trying to think outside of the box. I finally decided, how about I get them a 3D printer and see what happens?" said McGuire, not knowing the impact this present would make.
At first, the boys were unsure of what to do with the 3D printer. They made their mother a little cat object and succulent planter as a way to practice using the gift. After that, they stopped using it as much, until McGuire saw an inspiring Facebook article about a child who used his 3D printer to make ear guards for essential workers' masks during COVID-19. She told her boys the story immediately, and was shocked, yet extremely proud of their response.
"Evan's eyes just lit up; he was like 'I can do that!'" said McGuire. "Thirty-four minutes later, he had the first ear guard done. He brought it to me, and my mind was completely blown."
This American Legion Family developed a continuous process to create and distribute hundreds of ear guards. When the project began, Evan and Ryan worked out a system of printing nearly 24/7. They took 12-hour shifts with Ryan working during the day, and Evan taking the night shift. The 3D printer makes the ear guards in 34 minutes, so every 34 minutes, the boys push a button to start the process again. Eventually, they took a break to get on regular sleep schedules. McGuire keeps her boys engaged by letting them know where the ear guards are needed, and why they are needed. She said that motivates them to continue their mission of Service Not Self.
While the boys are running the machine and producing the product, McGuire distributes them throughout the community to local hospitals, fire departments, U.S. Department of Veterans Affairs hospitals, veterinary clinics, and military families. She also mails ear guards across the country, to anyone who may want the extra comfort while wearing a mask.
"I'm trying to fulfill the need of the community. We have done hundreds of them!" said McGuire. "We get them out there to whomever needs them."
Unit 583 has supported the McGuire family through this entire project. They donated two rolls of filament, the plastic used to create 3D printer objects, and they have offered to provide anything the family may need.
---
"My ALA family has been incredibly supportive, and if we need anything, they are happy to step in to help," she said. "I think in this Legion Family, we all kind of raise our kids together and volunteer together and go to events together — they are a part of my family."
---
While the world continues to fight COVID-19, the McGuires plan to continue helping essential workers find comfort while wearing ear guards with their protective masks. Every 34 minutes, the family pushes a button that makes a difference for someone struggling to find relief during these tough times.
"I try to teach my kids to go where they are needed and help where they can," said McGuire. "So, if we have something like this 3D printer that can be used to help people, then we are going to do that. We have to continue to give back while focusing ahead."