On the morning of Sept. 28, 2022, Hurricane Ian intensified into a Category 4 hurricane over the Gulf of Mexico, with maximum sustained winds of 155 mph, just shy of a Category 5 storm. Ian came ashore near Cayo Costa, Fla., at 3:05 p.m. EDT with maximum sustained winds of 150 mph, tying the record for the fifth-strongest hurricane on record to strike the United States. It was the strongest hurricane to hit Florida since Michael in 2018.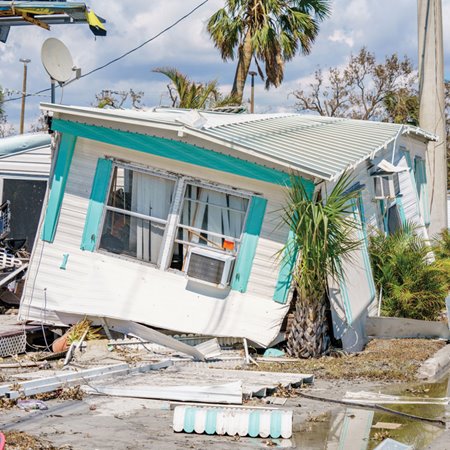 ​Hurricane Ian caused catastrophic damage with losses estimated to be $113 billion. Communities are still reeling from the devastation, and the journey back to normalcy seems like a long trek for many of our ALA members in Florida, Puerto Rico, and the Carolinas.

ALA member Cynthia Weant recalled seeing the devastation after enduring the 10-hour storm from her Port Charlotte, Fla., home.

"The next morning, with the sun now shining, our family ventured out to evaluate the neighborhood damage," Weant said. "Seeing nothing but jaw-dropping devastation in every direction — and far worse than we could have imagined — a wave of shock swept over us. This monster storm spared no one. It was obvious that this was no ordinary hurricane and presented no ordinary cleanup. We would need weeks, undoubtedly months, of hard work, community resources, and all available agencies for this recovery. The daunting task ahead was just that: daunting."

In the wake of that kind of destruction, where do you start? How do you begin to pick up the pieces of your life and move forward?

When we find ourselves in a crisis, we often turn to our community for help. We seek out assistance programs from government entities, local foundations, and membership organizations we belong to. In this case, Weant turned to the American Legion Auxiliary's Auxiliary Emergency Fund grant assistance program. As a member of the Auxiliary, Weant applied for grant funding and based on the documentation provided, was awarded the maximum funds of $2,400 in the wake of this disaster. Auxiliary members who have maintained their current ALA membership for three consecutive years and not been awarded an AEF grant in the past 12 months are eligible to apply for this incredible benefit.

Weant recounted her experience with the Auxiliary Emergency Fund grant program.

"The assistance we received was overwhelming, and then when I found the opportunity to apply for an Auxiliary Emergency Fund grant, I decided to submit my application," Weant said. "Within days, I was notified that my application was approved and the funds from the American Legion Auxiliary National Headquarters were deposited into my account! I was overjoyed, not only by the swift deposit, but the relief to have available cash to start our cleanup."

Since Oct. 1, 2022, ALA National Headquarters has received 69 Auxiliary Emergency Fund grant applications because of Hurricane Ian and awarded $116,789 to members directly affected by that storm. Financial support for the Auxiliary Emergency Fund program is made possible only by the generosity of our members' support and philanthropic donors. Donors who contribute to the Auxiliary Emergency Fund help ALA members like Cynthia Weant regain their footing after life as they know it has been swept out from under their feet.

Weant extends a heartfelt thank-you: "A simple 'thank you' does not seem like enough to express my extreme gratitude toward your organization for this generous helping hand! In the spirit of the Auxiliary motto, you proved once again Service Not Self."


For ALA members who have endured a significant financial setback as the result of an act of nature or other personal hardship, the Auxiliary Emergency Fund's national grant assistance program can aid eligible members. And for those who want to help, let's make a difference by ensuring we have the funds now, and in the future, by making a donation to AEF. Learn more at www.ALAforVeterans.org/AEF.