The American Legion Auxiliary Foundation positively impacts the lives of our veterans, military, and their families by funding programs of the American Legion Auxiliary today and for future generations.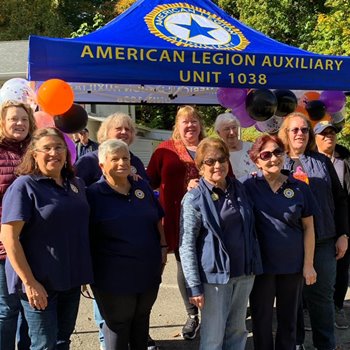 One way the Foundation assists is through its Mission in Action grants, which help members brand their programs so that the ALA is recognizable in the community for all their good works. Whether it's storage totes to transport items to a local food pantry, a branded vehicle or trailer to deliver meals to homeless veterans, or signage and banners for your department's ALA Girls State program, a Mission in Action grant will help you work the mission while promoting the organization behind it all.

One example of a unit being awarded a Mission in Action grant is Unit 1038 in the Department of New York. The grant was for the unit to purchase several branded items to bring awareness to the Auxiliary in its community.

"In previous years, the American Legion Auxiliary Adolph Pfister Unit 1038 was considered a hidden gem located in the hamlet of Valhalla, New York," said unit member Emmy Creskey. "Upon becoming president in 2018, I became keenly aware that to be a successful American Legion Auxiliary unit, we needed to let the community know who we are and what we do through extensive outreach. At the time, the local community had minimal knowledge of the ALA in Valhalla, and hardly anyone outside our unit knew our mission or a member's role."
The $1,760 grant Unit 1038 received was used to purchase branded pop-up tents, table coverings, table runners, and storage containers for use at unit programs and public events.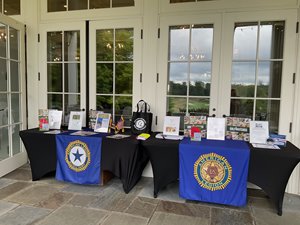 "The Mission in Action grant items we chose are great multipurpose branded ALA marketing items," Creskey said. "I know we will get lots and lots of use out of them at a host of public functions."

Through this grant, ALA members, guests of events, and the public will see the ALA branding with proper marketing items, helping to strengthen the view the community has of the unit.

Based on Unit 1038's experience, Creskey would recommend other units apply for a Mission in Action grant, as well as look into the other grants available through the ALA Foundation.

"The process was fairly straightforward, and any questions we had were answered quickly by the American Legion Auxiliary Foundation staff," Creskey said. "We never felt like our unit was alone in the process, and the Foundation support was always readily available."

Are you ready to take your unit or department's branding to another level? Apply online for a Mission in Action grant.

Basic criteria for qualification:
The applicant must be an American Legion Auxiliary entity (i.e., unit, district/county, or department).
The proposal must address a specific ALA branding need that will help members with mission delivery and be recognizable in the community.
The project must support the ALA's mission of serving veterans, military, and their families.
Grants are awarded up to $5,000.
The applicant has been awarded no more than one grant per grantee in a 12-month period.
The applicant's request cannot exceed 80% of a qualifying grant's project total. The balance of the project total is the responsibility of the applicant.
Awarded funds must be expended by the grantee within 12 months of submitting the application.
The grant report, including photographs, must be completed and returned at the conclusion of the project.
Examples of projects funded by Mission in Action grants:
Plastic storage totes, banners, branded tablecloths, or pop-up tents.
Vehicle wraps, car/trailer magnets, or decals.
Projects NOT eligible for Mission in Action grants:
Reimbursements for completed projects.
Consumable items that are intended to be used up or to be given to single individuals and not returned.
Maintenance to a trailer/vehicle.
For more information or questions about the qualification of your project, visit
www.ALAFoundation.org
.
By Sara Fowler