Legionnaire provides in-depth history on famed Georgia legend


Guest blog post written by Capt. Rufus R. "Sonny" Barber Jr., USNR (Retired)

"In Flanders fields the poppies blow
Between the crosses, row on row…"

These lines are familiar to many and are the beginning of a poem written by Lt. Col. John Alexander McCrae while serving as a physician in the Canadian army during World War I. McCrae wrote the poem after witnessing the death, and later presiding over the funeral, of a friend. McCrae, a surgeon, died of pneumonia in January 1918 while commanding the Canadian General Hospital at Boulogne, France. Days ahead of his departure for the Great War, Dr. McCrae wrote to his mother a sentiment likely shared by every soldier going his way: "I am really rather afraid, but more afraid to stay at home with my conscience."

The poem was first published in Punch magazine during the war and originally titled We Shall Not Sleep. By late 1918, the poem had been published in many more publications, including Ladies' Home Journal. A young woman from Georgia, Moina Michael, was given a copy of that magazine on Saturday morning, Nov. 9, 1918. This was just two days before the armistice was signed, ending the war. Moina turned to a dog-eared page containing McCrae's poem. Moina had volunteered for the overseas YMCA war workers at Columbia University in New York, her alma mater. After completing her training, Moina's hopes of being sent abroad fell short. She was barred from overseas service because of her age — she was 49. However, the president of the overseas YMCA secretaries gave her a job at the training headquarters in New York at Columbia, where she worked until January 1919. Moina's own words from her memoir demonstrate the effect this poem on her.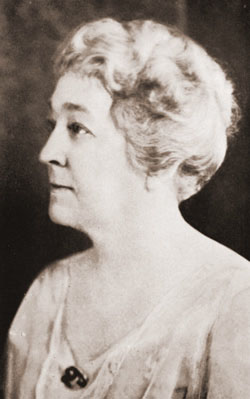 "I read the poem, which I had read many times previously, and studied the graphic picturization," she said. "The last verse transfixed me — 'To you from failing hands we throw the torch; be yours to hold it high. If ye break faith with us who die we shall not sleep, though poppies grow in Flanders fields.'"

In Moina's book, The Miracle Flower, she described the experience as deeply spiritual. She felt as though she was actually being called by the voices which had been silenced by death.

On that same Saturday morning in November 1918, three men from the Twenty-Fifth Conference of the YMCA Overseas Secretaries appeared at Moina's desk. On behalf of the delegates, they asked her to accept a check for $10 in appreciation of her efforts to brighten up the headquarters with flowers. Touched by the gesture, she told them she would buy 25 red poppies with the money. Moina searched the shops that day and found one large and 24 small artificial, red, silk poppies. When she returned to the YMCA headquarters later that evening, delegates from the conference crowded around her, asking for poppies to wear. She gave the poppies to the enthusiastic delegates and kept one for her coat collar. According to Moina, this was the first group effort asking for poppies to wear in memory of all who died in Flanders Fields. And since she had been given money to buy the poppies, she considered that she had consummated the first sale of the Flanders Fields Memorial Poppy on Nov. 9, 1918.

Frenchwoman Anna E. Guerin also was inspired by McCrae's poem. She promoted the artificial poppies to raise funds for French soldiers who were medically discharged without a pension and to aid in the recovery of France after the war. She began selling her poppies made in France in the U.S. In 1921, she sent her poppy sellers to London where they were also adopted by the Royal British Legion. The poppy also was adopted by veterans groups in Canada, Australia, and New Zealand.

From that year, 1919, each woman seems to have concentrated on her own particular passion. For Anna, it was always her single poppy bloom. In fact, Anna Guerin's charity, founded in December 1918 in Paris, took the poppy as its emblem. For Moina, it was initially her "Victory Emblem." The emblem depicted an entwining torch of liberty and Flanders poppy design. She was granted a patent in March 1919. After her design failed to catch on, Moina concentrated on promoting the single red poppy as a symbol of the sacrifice of United States' veterans of foreign wars.

But the path to official recognition in the United States was interesting and frustrating. She enlisted the help of the dean of the Pulitzer School of Journalism at Columbia, she wrote to congressmen, and met with countless organizations, traveling at her own expense. Finally, in 1920, the national American Legion adopted the poppy as its official symbol of remembrance. Today, veterans organizations and others all across the United States, Canada, and Britain distribute the poppy flowers and raise millions of dollars each year for military veterans.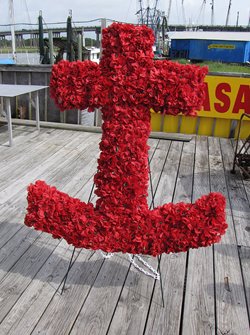 One tradition using poppies begun by Moina Michael honors those military servicemen and women lost at sea. Each year, American Legion Auxiliary members, along with veterans and families, board boats and take an anchor made of poppies to be dropped at sea. The tradition started in Savannah, Ga. The United States Naval Academy for many years also took on the tradition. Moina's inspiration for this poppy anchor came from a grieving mother whose son had wanted to join the Navy in 1918. The mother told Moina that she expected her son to join the Army. In that way, she said, if he were killed, there would be a grave and some memorial, or at least some flowers. To please his mother, the son gave in and joined the Army. But he died when his ship was sunk by a German submarine. The distraught mother's pleas caused Moina to promise her that there would be flowers for her son and for all those lost at sea in time of war.

In many ways, Moina's early life became the spark for her passionate support of America's veterans.

Moina was born in 1869, just a scant four years after the end of the Civil War. According to Moina's biographer, her mother was college trained and was "accomplished in many graces, singing beautifully, painting in oil, playing the piano, and dancing charmingly." Moina's father had inherited a plantation from his father — more than a thousand acres. He also had been educated in what could be considered college level today.

At age 13, Moina was sent away to school about 30 miles from her home. But when she returned in June 1885, she found her family and community in dire straits. The punitive reconstruction period in the South after the Civil War had taken its toll. High taxes and the unstable prices of commodities, such as cotton, made many land owners "land poor." Her father eventually sold the land. These difficult economic times would end the relative easy life Moina had experienced as a youth. It was even left to Moina's later paid positions as a teacher to support the education of her siblings. But one immediate desperate situation was that there was no money in the town in 1885 to pay the school teacher. Since Moina had benefited from being the oldest and had the privilege of some higher education of the time, she was asked to take on that role. At age 16, she began what was the beginning of a long career in education and service to others.

One of the customs she started as a teacher was to begin each school day with at least one verse from the Bible, an inspirational song, and a prayer. This custom served her well one sad day in 1888. During the school year, the baby sister of some of her pupils was burned to death when her clothes caught fire while playing in front of an open hearth fire. Moina asked her students to bring flowers to place on the grave of the child at the funeral. On the day of the funeral, she lined up the students along the route with their flowers. The wagon carrying a small white casket in the laps of two men passed by. A wagon filled with family members followed and stopped in front of Moina. The mother of the dead child told Moina that there was no one to conduct the funeral. The woman said that she couldn't let her baby be buried without prayer. She said the few men who "pray in public" were on jury duty, and another was conducting a funeral elsewhere. So, at age 19, Moina summoned up the courage to conduct the service, even though there were many older women and men present.

Moina recalled the incident, saying she "did some tall praying" on her own account that day. At the gravesite, she had the children sing a hymn, and then she delivered a sermon. She chose this Bible text: "Except ye become as little children, ye shall in no wise enter the kingdom of Heaven." Her courage and words struck the conscience of some of the men present. She recalled that, soon after, there were many others who stepped up to pray in public and conduct graveside services.

There are other instances in Moina's early life that shaped her devotion to serving others. That devotion caused her to pass up many suitors, including a missionary from Brazil who traveled to the United states to ask her to marry him.

Some years after teaching school in the local communities, Moina became a teacher at the Normal School in Athens, Ga., which was part of the University of Georgia. She later garnered a scholarship to attend Columbia University.

Another early incident spurred Moina's support for veterans. She was with some friends and fellow educators from Columbia and Georgia in Europe in 1914 when the war began. The group was in Cologne and found themselves cut off from their return home through England. The group made its way to Rome and sailed back to the United States aboard the Carpathia, the ship that came to the aid of the Titanic. On the voyage home, a friend gave Moina a copy of Rudyard Kipling's ballads. One that seized her attention more intently was one entitled Tommy Atkins. Tommy Atkins represented the British soldier. Here are some of the last lines of that Kipling ballad: "For it's Tommy this an' Tommy that, an' chuck him out that brute. But it's savior of 'is country when the guns begin to shoot."

The United States was not brought into the war until 1917. In that year, Moina applied for the YMCA overseas. But, as mentioned earlier, she was too old. Instead, she was accepted to work at the headquarters back at Columbia in 1918.

One day while working at the YMCA headquarters, she was asked to accompany a young wife from California to grand central station to claim the body of her soldier husband. They had been married just a few months before he enlisted. Ironically and tragically, he had died of the flu just before embarking from Boston. More than 30,000 soldiers died from influenza before they even reached France. The worldwide flu pandemic is estimated to have affected 500 million people around the world and resulted in the deaths of 50 to 100 million.

Moina and the bereaved widow arrived at the station and found someone to guide them to the subterranean halls where the casket was located. Moina recalled the incident: "There we beheld an endless area, it seemed to me, of flag-draped caskets sent into this station to be rerouted to the south, the west, and the points near New York City. Such scenes embedded themselves deeply in my soul, and these emotions were to be released later in my poppy idea."

While performing many tasks at the YMCA, Moina also came in contact with the families who came to bid farewell to their sons and boyfriends. And she met many of the young soldiers as well.

"It would seem unreal to find just how many of those boys of Uncle Sam had no mothers — especially before holidays or leave of absence seasons like Thanksgiving and Christmas," Moina said. "So often, they would hang about the desk waiting for a bit of attention, and some, when asked if going home for the few days, would answer, 'No, I have no home. I have lost my mother.' Then I would get to see her photograph, perhaps the last letter to him, and next — the loving face of some pretty girl — the girl left behind. Oh, yes. When the day before embarking came, if he had been promoted and had on an officers uniform, all new with shining insignia, and he came to say goodbye, I had to look him over most proudly, praise his good looks and send him away with a smile — while my heart ached with anguish of fear — for it was 'We won't be back 'til it's over over there.'"

Over the years, Moina received many awards and recognitions. For example, she was the only woman recognized in the Columbia University Alumni News in 1929 during the celebration of the 175th anniversary of the institution. In that recognition, Columbia University claimed itself as the birthplace of the poppy idea in the United States because it was conceived by one of its alumni — Moina Michael — who was there with the YMCA.

In 1924, General of the Armies John J. "Blackjack" Pershing wrote to Moina. Gen. Pershing had also been the head of the American Expeditionary Forces — or A.E.F. — the men of the United States Army fighting in Europe in World War I. The letter, in part, read: "I wish to congratulate you on the splendid patriotic service you have rendered in conducting the sale of poppies on Armistice Day each year for the relief and benefit of war sufferers …"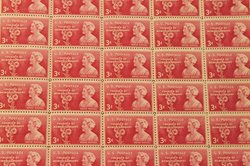 Moina also was nominated for the Woodrow Wilson Foundation award of $25,000 and lost by one vote. Other winners of the award included Charles Lindbergh. The American Legion Auxiliary presented Moina with its distinguished service medal. There was a postage stamp issued with her image, and, in early WWII, a Liberty Ship was named for her. And finally, and among many other honors, the state of Georgia recognized Moina's work with a marble bust in the capitol rotunda in Atlanta.

This is just a brief look at a remarkable woman who made her contributions to society by helping those who help preserve the freedoms we all enjoy. Estimates are that more than 40 million men and women have served in our armed forces and militias during times of wars and conflicts. About 2 million were wounded, and nearly 700,000 killed. These numbers cover the history of the United States from the Revolutionary War to today. And quoting the slogan of the Military Order of the Purple Heart: "All gave some, some gave all."

After Moina read Lt. Col. McCrae's poem on that morning in November 1918, she pledged to herself to keep the faith with those who served and those who died. She made that pledge public through a poem she wrote immediately after reading McCrae's. She entitled it, We Shall Keep The Faith.

"Oh! you who sleep in Flanders Fields,
Sleep sweet — to rise anew!
We caught the torch you threw
And holding high, we keep the faith
With all who died.

We cherish, too, the poppy red
That grows on fields where valor led;
It seems to signal to the skies
That blood of heroes never dies,
But lends a luster to the red
Of the flower that blooms above the dead
In Flanders Fields.

And now the torch and poppy red
We wear in honor of our dead.
Fear not that you have died for naught;
We'll teach the lesson that you wrought
In Flanders Fields.

Rufus R. "Sonny" Barber Jr. is a member of The American Legion and a life member of the Disabled American Veterans. Retiring from the U.S. Navy Reserve as a captain, his active-duty Navy service included volunteering while in Navy Officer Candidate School to serve as officer-in-charge of a U.S. Navy "Swift" boat in Vietnam, completing his one-year tour in 1969. In addition to writing three fiction books for preteens and up using events in early American history, he also has written — along with his wife, Barbara — a memoir of his service in Vietnam. His interest in Moina Michael originates from several perspectives. Moina's great-grandfather is his great-great-great-grandfather. Moina was born in Good Hope, Ga. Sonny lived in that rural town the first year of his life with his mother, sister, and maternal grandparents while his dad served in World War II. Growing up, he heard stories about Moina Michael from his mom and grandmother and learned about her while studying Georgia history in school. Finally, he is a member of the National Society of the Sons of the American Revolution and traces his Revolutionary War ancestor and his Jamestown ancestor through the Michael line.