Veterans across the country are busy competing at their local Veterans Creative Arts Festival, hoping for a chance to make it to the national event in 2024 in Denver.

In 2023, over 2,000 veterans submitted over 4,000 entries into their local creative arts competitions from 129 U.S. Department of Veterans Affairs facilities in the divisions of art, creative writing, dance, drama, and music. Following local judging, the finalists' entries advanced to the national level where they achieved first place in their category.

In honor of the local Festivals taking place, we are throwing it back to the 2023 national Festival and taking a closer look at one of the attending veterans.

Kyle Higginbotham, U.S. Navy veteran
U.S. Department of Veterans Affairs facility: Tampa, Fla.
Dance Division, special recognition

Higginbotham, born in 1999, was the youngest attending veteran at the 2023 Festival. To give you some perspective on that, the oldest attending veteran was born in 1935.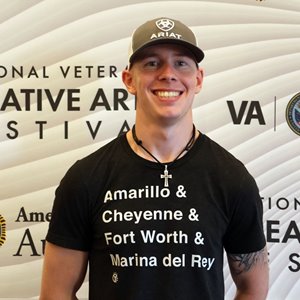 He nearly always had a smile on his face during the weeklong Festival and loved experiencing the camaraderie of being around fellow veterans.

Tell us about what you did in the military.
I graduated in 2017 and joined the Navy because I love the water, and my great-grandfather was a Seabee in the Navy. I love law enforcement and I did military police — the Navy calls it Master-at-Arms.

How have the creative arts helped you?
Growing up in life, I've always lived the country lifestyle. I was raised around horses. I love country music. I never danced when I was younger, but when I went to training, I was in Texas and started dancing. I love singing and music because it calms me down. I was at the VA working with a voice therapist and did a rendition of Must be Doing Something Right. I took audio of that and put it over a video of me two-stepping with my physical therapist, Laura, and from there, it went to the Creative Arts Festival and placed first nationally. For outpatient therapy, I was paired with my dance therapist, Brittni.

Some of your comeback into music and dance can be traced to a bad motorcycle accident you were in. Can you tell us about that?
I was stationed at Joint Base Pearl Harbor-Hickam, Hawaii. About four times a week, I would go to a country dance hall and I would two-step and line dance. I was working night shift at the time. Around closing time for the dance hall was midnight. I was heading home, and I crashed. I don't remember most of it because of the injury. Thankfully, there was a state trooper on the road where I crashed, on the overpass above it. He had no reason to be there — he was on break and just stopped there to chill. He heard me crash and came down and found me. If he wasn't there, I wouldn't be here.

With the injury, the damage was to my front lateral right lobe of the brain. The brain is the most complex organ of the body. In the hospital, I was lying in bed on FaceTime, and my left side was sagging. It's gotten better. I'm working to strengthen the muscles back up more.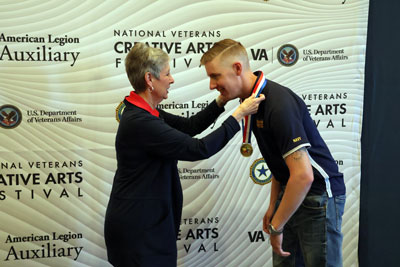 How did singing help you post-injury?
Singing has helped greatly because with the injury, they had to perform surgery on the scar tissue in my throat. My voice was roughly five octaves higher than it is now. Working with Natalie in music therapy definitely helped rebuild my confidence in my voice and helps me sing.

Talk about some of the emotional aspects you dealt with from your injury.
When I first woke up in the hospital being able to barely talk, I was like, I can never sing again. I had to re-learn to walk. I looked back at videos of me dancing in Hawaii and I was like that is one thing I will never be able to do again. After working with Natalie and Brittni, I can do it still.

How do you feel differently now, post-recovery?
Looking back on my accident, I realized my injuries and the struggles I had to go through or deal with [wouldn't have happened] if I hadn't bought the bike. Going through music therapy, dance therapy, and being at the Creative Arts Festival makes me realize I'm not alone in this fight. There are other people who have served and have had to go through troubles and tribulations. I love quotes, so Joe from the Joe Dirt movie said, "You just have to keep on keeping on."

What do you think about the Veterans Creative Arts Festival?
I believe the Creative Arts Festival is an opportunity for people who have had to go through dramatic life changes — whether injuries or retirement — and it's a way to express themselves. There are individuals here who are confined to their wheelchairs, and they can express themselves by singing and have wonderful voices. I look at them and see they are not letting their injury stop them. They are pushing forward. I can look back on what I've been going through and overcome. To know there are individuals who have gone through their injuries and obstacles is really inspiring.

Learn more about local Veterans Creative Arts Festivals and the national Festival here.