Changes are coming to the ALA Junior Patch Program! The changes to the popular program among Junior members and school-aged Sons of The American Legion are reflective of the world today for young children.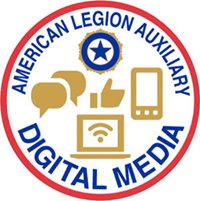 For kindergarten through third grade, the Technology patch is being replaced with the Digital Media patch.

In looking at the number of patches given out over the last couple of years, the Technology patch was the least requested. A subsequent decision was made: Rather than revamping the Technology patch, it would be discontinued for the older levels and reworked for Level 1 only. Tech is so ingrained in our younger members' lives that the older kids already have a better grasp of it than anything we could have them do for a patch.

To earn the Digital Media patch, there are eight activities to choose from — one is required, and three are your choice.

The required activity: with the help of an adult, research and discuss internet safety. Write an internet safety pledge and give a copy to your parents/guardians. Other options:
Determine two tools of internet usage that you use daily and explain those benefits to an adult.
Research ALA or SAL membership eligibility online. Print a membership application and try to recruit new members.
Create your own email account with adult supervision. Always practice internet safety.
Visit Legion.org or ALAforVeterans.org and make a list of five things you learn about.
Shop American Legion Flag & Emblem Sales online at emblem.legion.org for ALA or SAL items. Create a wish list and share it with your parents.
Email the ALA national president or national commanders of The American Legion or SAL and let them know how excited you are to be a member of this great organization and why.
With an adult, submit a "letter to the editor" or "community thank you" letter to your local newspaper via email, expressing your gratitude to our veterans.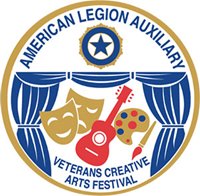 In addition to replacing the Technology patch, there is a special Veterans Creative Arts Festival limited-edition patch to raise money for ALA National President Vickie Koutz's 2022-2023 area of focus. The weeklong national Festival showcases the creative achievements of veterans receiving treatment at U.S. Department of Veterans Affairs medical facilities. Veterans participate in many categories, including visual arts such as painting, sculpting, and drawing, as well as creative writing, dance, drama, and music.
When planning for the 2022-2023 administrative year, Koutz requested a patch for VCAF. Since VCAF is already covered in the Veterans Affairs & Rehabilitation patch, it was decided to tie it into her national president focus and help as a fundraiser.
Any Junior or SAL youth can earn this patch if they raise at least $5 for each year old. For example, a 17-year-old would raise a minimum of $85 (17x$5=$85). Donations can be raised in a variety of ways — solicited from family, friends, Legion Family members, or contribute themselves.
Fundraising activities such as bake sales can be coordinated. Funds can be raised individually or as a group, but each Junior or SAL youth receiving this patch needs to have raised the required minimum funds for their age.
Participating in the Patch Program is a great way to be involved in learning about the Auxiliary and our Legion Family, volunteering in the community, and serving our country's veterans.
To learn more or download the patch order forms, visit
www.ALAforVeterans.org
.