Deadline to apply for scholarship is March 1


Getting a job or staying competitive in today's workplace involves showing employers you have the skills and experience to get the job done. In many cases, returning to college is a must.

The American Legion Auxiliary's goal is to do all we can to make that happen, and that's what the Non-Traditional Student Scholarship is all about.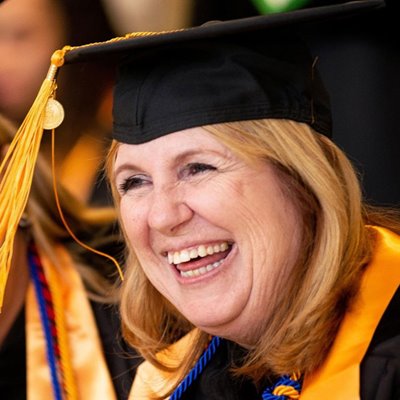 This scholarship helps people who are part of The American Legion Family pursue a college degree later in life or allows them to pick up where they left off when their studies were interrupted. If you're at this place in life, this may be the right scholarship for you. That's the case for Department of Maryland ALA member Catherine Stevens Laird who recently shared her back-to-school story with ALA National Headquarters.

Tell us about your ALA membership and what it means to you.
My initial membership to ALA was at Unit 91 in Cambridge, but when I moved, I transferred to Hurlock American Legion Auxiliary 243. It is a very small Legion, but that makes it feel more like a family. I have not been as involved with the Auxiliary as much as I would like, but hopefully that will change after I graduate. I definitely want to become more involved. At the moment, I work 40+ hours a week and I am on call one week every three weeks. I am a full-time student, so I don't have much spare time.

When you graduated from high school in 1975, did you go to college afterward?
No, I quit high school my senior year and immediately went and obtained my GED. The reason I quit was because I moved to Maryland my senior year due to my father passing after losing his battle with cancer. I was 16 and had a 10-month-old son. I am a recovering addict (1988-2014 was when I used) and I wanted to prove to myself and my family that I was not a total loss. I started back in 1983, but dropped out due to a domestic violence situation. I returned in 2017 after I started my path to recovery.

Can you share why you wanted to go back to school?
I needed to prove to myself and my family that I was capable of creating a better life for myself, my children, and my grandchildren. Also, in 2014, my mom became ill with pancreatic cancer, and I moved in with her until she passed away. I made her my higher power, and I wanted to prove that I would not let her down again.

Your college major is social work. What inspired that career choice?
I obtained my associate's degree in human behavior and a certificate in addictions. I am very proud to say I was on the dean's list every semester and graduated with honors. I am presently in my senior year at Salisbury University attempting to earn my bachelor's degree in social work. I have maintained a 3.89 and have also been on the dean's list every semester at SU.

My choice was inspired by fate. My younger brother, sadly, passed away from a fentanyl overdose. I decided to donate his clothes to a recovery resource center in Seaford, Delaware, and I was very impressed with the agency. I told them I was in recovery and felt like this was where I needed to be. I was hired two weeks later. I was there for one year, then I obtained a position with the Wicomico County Health Department with the Community Outreach Addictions Team (COAT) as a certified peer recovery specialist.

How did you find out about the ALA's Non-Traditional Student Scholarship?
I work full time, and my husband is retired. In order to be able to afford my college expenses, I researched various scholarships.

How did you feel when you learned you were awarded one of these scholarships?
Totally shocked, couldn't believe it! Finally, was proud of myself due to my past battle with substance use and the poor choices I made in my life previously. I have worked hard to unstigmatize myself and my past. It has been a long battle but well worth it. I can finally take pride in my accomplishments and no longer dwell on my failures.

What does it mean to you that the ALA has a scholarship for non-traditional students when many scholarships are focused on high school-aged students?
It meant everything to me! I did not even think there was anything available for a 65-year-old woman. I would become so frustrated when I reviewed other scholarships because there was no way I could convince anyone I had just graduated high school.

For other non-traditional students who may want to apply for this scholarship, what advice do you have?
First and foremost, get good grades, apply yourself, and don't let the younger generation intimidate you. Do not compare your previous school years to the way things are now. There are many differences — students dress very casually, you can eat and drink in most classes, and do not get upset that students can't seem to stay off their social media sites while class is in session. Stay confident in your abilities. The outcome is so rewarding.

Is there anything else you want to add?
I just want to say that I cannot thank the ALA enough. If it weren't for their faith in me, I would not have won the scholarship.



Want more information about the ALA's Non-Traditional Student Scholarship before you apply?
One $2,000 scholarship is awarded annually per American Legion Auxiliary geographic division. Applicant may be pursing training in a certified trade, professional, or technical program, or a two-year or four-year degree program.
Applicants must be:

A current member of The American Legion, American Legion Auxiliary, or Sons of The American Legion, must have held membership for the two preceding years, and be a paid member for the current membership year.

Applicants must be:

a non-traditional student returning to the classroom after some period in which their formal education was interrupted, OR
a non-traditional student beginning their education at a later point in life.

American Legion Auxiliary Spirit of Youth Scholarship recipients are not eligible.
Applicants must present the completed application to their local American Legion Auxiliary unit president ON OR BEFORE MARCH 1.
Judging, at all levels, shall be on the following basis:

Character/Leadership 25%
Initiative/Goals 25%
Financial Need 25%
Academic Achievement 25%