Part 1 of 2

Honor the fallen and support the living.

This motto has been part of poppy distribution for decades, with proceeds going toward veterans, military, and their families.

Thinking outside the box for poppy distribution
As we all experienced last year and yet this year, the pandemic has changed the way members distributed the poppy and the way we've celebrated National Poppy Day. Since our founding, ALA members have continued to be resilient in whatever they face, and continuing to promote the poppy is no exception.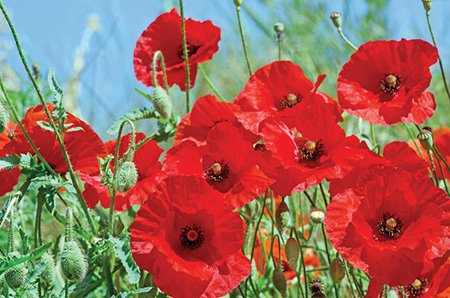 Last year, many members didn't do anything for National Poppy Day because they didn't know how to do it contactless, as the Auxiliary is such a hands-on organization. But the pandemic didn't stop some units, like Unit 45 in Greenbrier, Tenn., whose members figured out a way to continue with distribution while keeping its members and community safe. Lessons learned from last year's event have prompted the unit to do a contactless drive-thru poppy distribution again this year.

"Think outside the box," said Kathi Carney, president of Unit 45, as part of her advice to other members. "Look at your location and what you can do in that location to get your community behind you."

If that location — say, your post home — doesn't work well for an event like this, Carney suggests borrowing someone else's location for your poppy distribution.

Last year, the flow of Unit 45's event went really well, so they plan on duplicating that again. One change based on last year's event will be instead of it simply being focused on distribution, it will be more of a drive-thru educational event, showcasing different pieces of history with the poppy so people can go slower and read. Community members can also park and walk to read the signs if they wish. The unit is also adding a copy of the In Flanders Fields poem in the bags with the poppies so people will have that history to take with them. Carney added they also hope to make a giant poppy out of plywood with a hole in the middle so people can put their head through and take a picture.

One suggestion Carney has for those thinking of doing a drive-thru poppy event is to make sure to have good signage, especially facing two sides, as visibility from both sides of the road is important. After last year's event, the unit has decided to purchase a second sign.

Carney said the ease of the event for members was a determining factor in doing it again for 2021. Rather than having members out at local stores, conducting the event at the post made it easy for members to go inside and take a break from volunteering and/or from the elements, make more poppies, and also gave the opportunity for more American Legion Family members to get involved being held at the post home. The Family aspect, Carney said, was a key part to their success and suggests units work with other parts of the Family, even reaching out to another post if needed and doing something jointly.

Unit 45 utilized social media to spread the word about their poppy distribution last year and plan to do so with this year's event.

"Facebook has been our friend without a doubt," Carney said. "We pushed a lot of things out through social."

Carney offers advice to other units thinking of doing a contactless poppy drive-thru or something different than what they usually do.

"You just have to be creative," she said. "Sometimes we get stuck in a rut and are not thinking outside the box at all. The more creative you are, the more you engage the community, the better off you are. Your community embraces you when you try something different."

Bonus tip: Collaborate with a local business to include coupons for a small item. For example, Unit 5 in Tampa, Fla., added a twist to its poppy drive-thru event. They partnered with a local McDonald's and got "bounce back" coupons for a free burger, which they then included with the poppies during their distribution. In less time than a traditional poppy distribution event with a membership of only 42, the unit earned over $1,000 in donations!

More creative ways to distribute poppies during the pandemic
In addition to contactless drive-thru poppy distribution, members got creative last year and tried new things to raise funds. Needing to do something different than your usual poppy distribution because of the pandemic? Borrow one of these ideas!
Distribute poppy donation cans and jars to businesses. These businesses are given recognition for their support in local newspapers, on social media, and on radio and television.
Send letters with poppies, poppy bookmarks, and the In Flanders Fields poem to your post's Family members requesting donations. Include self-addressed, stamped envelopes for their convenience.
Make poppy face masks, and label bottles of hand sanitizers with the ALA emblem to raise funds.
Distribute poppies during drive-up meals held at posts. Consider attaching a poppy and a poppy information sheet to lunch bags.
Use social media to collect funds. Add donation buttons to your website and Facebook page to encourage members to donate.
Hold virtual fundraising events through Zoom meetings with unit/department members, auctioning poppy items such as wreaths, hats, cookies, etc. or hold a raffle to increase poppy funds that may have been lost during the pandemic.