ALA members work together to help others
The ALA Stories blog series showcases positive American Legion Auxiliary experiences, thoughts, and ideas of ALA members. We hope these blog posts will inspire and encourage all who read them.
At 88 years old, Edith C. Bush has lived through decades when the daily chances of her, or other Black Americans, encountering some form of discrimination was as certain as the sun rising each day. America's long gone legalized racial segregation, which bolstered the evil doctrine of white supremacy, was in place for much of Bush's life. The resulting overt and covert oppression of Black Americans was the norm in those days. Add to that race-based inequities, harassment, death threats, and unwarranted violence — sometimes lethal, all aimed at Black Americans.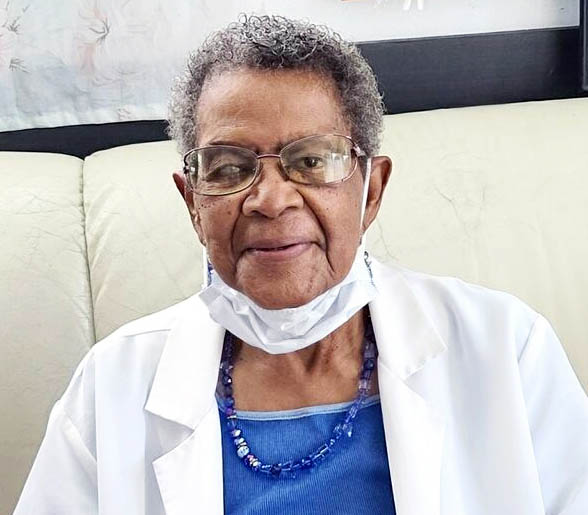 Edith C. Bush, member of ALA Unit 199 in West Palm Beach, Fla.
Bush could have cloaked her heart in a shroud of hatred aimed at all white people. But she never did. Bush could have stopped loving America when it seemed like America did not love her back. But she never did.
Instead, Bush chose a path of harmony and unity among all people, in all parts of life. She's naturally driven to help anyone in need. Bush continues to love America, plus its principles of freedom, democracy, and equality. She is optimistic that our nation will remain on its path toward a more just union for all of its people. And, she cares deeply for those who protect and defend the United States and its interest.
Bush does all of this as a member of the American Legion Auxiliary, a community of volunteers serving veterans, military, and their families.
"We want to make sure our veterans are taken care of, whether it's picking up their medication when they can't, making sure they have food, or whatever. We have to do these things for them if they need help because they did something for all of us: They served our country. We need to be inclusive in our membership in order to serve all," said Bush, a longtime member of ALA Unit 199 in West Palm Beach, Fla.
Bush joined the Auxiliary in 1999. Her ALA membership eligibility is based on the military service of her brother, U.S. Navy veteran Alvin Edward Coleman.
"I'm excited to be part of ALA because we are associated with organizations that can provide help for military people and their families. I love to help people! That's my thing! If those in need are having their needs fulfilled, that makes me happy," she added.
---
We need to be inclusive in our membership in order to serve all.
---
For most of Unit 199's existence — which coincided, in part, with the days of racial segregation, the unit only had members who were African-American. That changed when Denise Holmes, a white woman, joined about 20 years ago. Bush and others welcomed Holmes, who still belongs to Unit 199, and says she cannot see herself in any other unit. And the unit is equally fond of Holmes, Bush explained.
"Denise feels so comfortable being with us. We feel comfortable with her. We value her. It's like what Dr. Martin Luther King Jr. said: Judge a person not by the color of their skin, but by the content of their character," Bush said, noting that there is a closeness among the members of Unit 199.
"I'm a three-F person: faith, family, and friends. Being a member of ALA — that's one of the ways I get my feeling of faith, my relationship where we are almost like a family, and beautiful friendships," Bush added.
More about American Legion Auxiliary member Edith C. Bush
Originally from Andalusia, Ala., Edith C. Bush is a retired elementary school teacher living in Florida. She devotes her time to numerous other worthy causes and belongs to several community organizations, including Literacy Coalition of Palm Beach County. Bush earned her undergraduate degree at Bethune-Cookman College (which later became Bethune-Cookman University) in Daytona, Fla., where she majored in education and minored in music. She earned her master's degree in education from Florida Atlantic University in Boca Raton, Fla.
Editor's Note
The American Legion Auxiliary is a community of volunteers serving veterans, military, and their families. Our mission statement:
In the spirit of Service Not Self, the mission of the American Legion Auxiliary is to support The American Legion and honor the sacrifice of those who serve by enhancing the lives of our veterans, military, and their families, both at home and abroad. For God and country, we advocate for veterans, educate our citizens, mentor youth, and promote patriotism, good citizenship, peace, and security.
Interested in becoming an American Legion Auxiliary member or volunteer? To learn more, visit www.ALAforVeterans.org or contact an American Legion Auxiliary unit near you.