Guest blog post by American Legion Auxiliary Past National President Nicole Clapp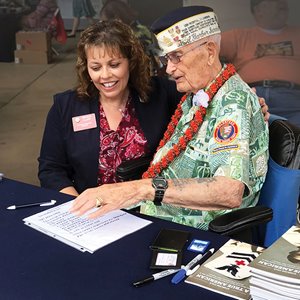 Hearing a firsthand account of heroism was reinforced repeatedly during my American Legion Auxiliary national president trip to Hawaii for the traditional wreath laying at the USS Arizona Memorial. I was honored to represent the entire American Legion Family for the 2019 Pearl Harbor Remembrance Day.

I was so excited to meet Sterling R. Cale, the last Pearl Harbor survivor living in Hawaii, and come to find out, he wanted to meet me. He compared his life growing up in Galesburg, Ill., on a farm in the Great Depression to my growing up on a farm outside Gladbrook, Iowa, in the 1970s — both going into health care to help others, him in the pharmacy and me as a burn nurse, and that our birthdays are just one day apart.

I looked into the eyes of this U.S. Navy veteran and Pearl Harbor survivor, and his courage and patriotism came shining through. He answered the call to duty in the wake of Dec. 7, 1941, demonstrating valor while stationed at Pearl Harbor that day during the Japanese military's surprise attack, helping with rescue and recovery efforts.

Sterling worked, along with a detail of 10 men, to remove bodies from the burning USS Arizona. He and his team removed 107 identifiable bodies and several unknowns. "In two hours' time, I think I only picked up 46 people!" You sense that he wished he could have done more.

Sterling went on to serve our country in Korea and Vietnam. We are thankful for everything he did at Pearl Harbor and throughout his entire military career. He lives near the site where the infamous attacks occurred 80 years ago. He is a life member of American Legion Post 17 in Honolulu and just celebrated his 100th birthday recently!


I will always cherish the memories and feeling I experienced having the opportunity to tour the Defense POW/MIA Accounting Agency at Joint Base Pearl Harbor-Hickam where the heroic dutiful mission remains to "provide the fullest possible accounting for our missing personnel to their families and the nation."

As I was departing, Director Kelly K. McKeague presented me with one of the folded American flags which draped one of the 55 transfer cases of remains being returned to America from North Korea. My eyes welled up, and my heart was heavy — even though that was not one of my relatives finally coming home.

These heroic acts are sometimes performed to protect those with whom they serve. Yet there is another legacy these heroes leave behind — a legacy that includes their sons, daughters, grieving parents, grandparents, and friends.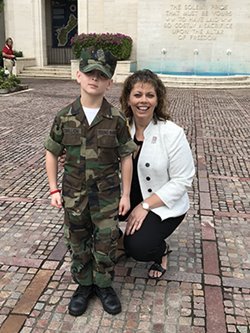 During that remarkable trip, while speaking to over 100 Young Marines at the National "Punch Bowl" Cemetery, I befriended a 10-year-old Ohio native Young Marine, Jacob McMillion, who has wanted to be a Marine his entire life. I presented him with one of my centennial national president pins, and he tapped on it and said, "These are the poppies you talked about in your speech." Jacob preformed community service and fundraising efforts to earn the trip opportunity to assist the Pearl Harbor survivors during the Remembrance Day parade and special observance events.

This trip of a lifetime represented seeing lives of individual service coming full circle. Our lives were in the capable hands of our veterans, and I am confident our lives will continue to be well into the future with the compassion and determination I witnessed in these individuals, and all of you, the American Legion Auxiliary.