Tour the new memorial in person or virtually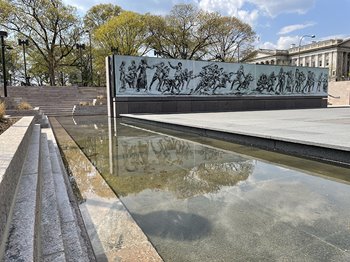 A long-awaited memorial to World War I and the 4.7 million Americans who served in the war is now a reality in Washington, D.C. It is the last of the 20th century wars to receive its own memorial in our nation's capital. The U.S. flag was raised above the park on April 16, 2021, signifying its opening to the public.

In 2013, an act of Congress created the U.S. World War I Centennial Commission to create the memorial. They selected architect Joseph Weishaar and sculptor Sabin Howard to enhance the existing park and create the memorial.

Located in Pershing Park, the memorial is named for Gen. John J. Pershing, who commanded American Expeditionary Forces in Europe. The statue of Gen. Pershing remains and has been incorporated into the memorial. The original park was dedicated in 1981. Renovations and construction for the memorial cost $42 million.

There are several points of interest on the site that will educate visitors while they remember those who fought for our freedom.

A Soldier's Journey
The central element of the memorial is a wall of remembrance that includes the sculpture A Soldier's Journey. However, the sculpture is not complete — it is scheduled to be installed in 2024. Until then, visitors will see a canvas featuring the artwork.

Once complete, it will be 58 feet long and 12 feet tall and will include 38 figures depicting the story of an American father leaving for war and the experiences of battle. Sculptor Sabin Howard wanted this piece to be about the process of being human, not glorifying war. His goal is to show the human emotions in an intimate and accessible way.

Peace Fountain
On the opposite side of A Soldier's Journey is the Peace Fountain, where visitors can reflect on the sacrifices and heroic acts made during WWI and the freedoms we now have today. The fountain also includes information about the United States' role in the war.

Belvedere
This is the conceptual center of the memorial. Here, victors can learn about the major campaigns the U.S. was involved in during the war. It also includes plaques providing information about each area of the park. A WWI Victory Medallion is embedded in the ground in the center of the Belvedere.


Red poppies
In late spring/early summer, red poppies will bloom for one to two weeks in landscaped areas of the memorial — symbolizing the red poppies in Flanders Field during WWI.

Red poppies are also incorporated in the memorial as an educational element. Visitors can scan "information poppies" that include QR codes to learn more about WWI history.

How to visit

In person
The memorial is located in Pershing Park across the street from the White House Visitor Center. It sits on Pennsylvania Avenue between 14th Street NW And 15th Street NW. Open 24 hours a day, the park was designed with lighting to enhance your experience in the evening.

Virtually
Two apps are available for download. There is a visitor's guide, and an augmented reality app called The WWI Memorial "Virtual Explorer." You can learn more about the Virtual Explorer app and its functions at www.Doughboy.org.

You can also watch webinars about the memorial and learn more about WWI history. Free webinars are available at www.Doughboy.org and www.worldwar1centennial.org.

Resources:
Virtual Explorer and visitors guide are available in your app store. Search WWI Washington, D.C.
www.doughboy.org
www.worldwar1centennial.org
www.sabinhowardsculpture.studio