The American Legion Auxiliary sponsors the Children of Warriors National Presidents' Scholarship to support the children of our warriors. These scholarships are awarded to 15 students annually who excel in academics and volunteer in their communities.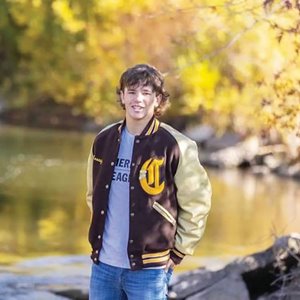 Tycen Mooney was eligible to apply for this scholarship through his father, who served in the Montana National Guard for 34 years.

What does it mean to you to have a connection to the military through your father?
Both my dad and my uncle were full time active-duty soldiers in the Army National Guard. My dad deployed to Iraq when I was only 8 days old — so it's a deployment I do not have memories of — but I know my dad often talked about how much he missed seeing me hit those first-year milestones. He also has been to Kyrgyzstan and Romania. It's such a source of pride for me to talk about my dad and his career.

Can you describe the role military has played in your life?
While [my dad] was full-time military, I didn't have to worry quite as much as other children my age about moving. I always knew we would be based out of Montana, and my roots here are strong. My dad did deploy and had several annual training missions out of the country, but I was always able to depend on my family and friends. The village of family and friends my parents had built for my siblings and me is strong, so I always knew I'd be able to do all my sports and activities, even when my dad was gone.

How did you learn about the ALA's Children of Warriors National Presidents' Scholarship?
I play American Legion baseball and was talking with one of the Legion members who supports our program. He told me to do some research on the various American Legion Family scholarships. I owe him a huge thank-you.

What was your reaction when you found out you were a recipient of this scholarship?
When I read the letter from the American Legion Auxiliary, I was so excited. I had to read the paragraph several times. Reading it to my mom and dad, I felt so much pride. The cost of college is becoming so ridiculous, so having this support makes my first year feel so much more affordable.

What college are you attending, and what are you studying?
I will be attending Concordia College in Moorhead, Minn. I will be playing football for the Cobbers while studying pre-optometry.

Where did your interest in this career come from?
I have been having my eyes checked since I was probably around 3 years old. My optometrist has made my eye appointments so much fun. While I didn't need glasses until this past year, he always showed such compassion. After spending time talking to him at my last appointment on his education and career path, I felt this was the perfect career for me.

Any advice to other students who may want to apply for this scholarship?
Start early. Volunteer. Discover your community. Work hard. Fill out your application knowing you deserve the scholarship. Hope for the best!

What would you say to the donors who support ALA scholarship funds?
There are not enough thank-yous in the world to thank all those who support scholarships! My goal is to be able to pay it forward and return the favor to other students someday.