Juniors make masks in times of COVID-19
Like their senior member counterparts, ALA Juniors across the country stepped up in a big way to assist with the COVID-19 pandemic through making face masks, serving as a learning lesson for younger members by helping their communities during a crisis.
Auxiliary magazine takes a look at Juniors from different states who have focused their time and efforts on a Service Not Self mindset.
Olivia and Chloe Brozovsky, Nebraska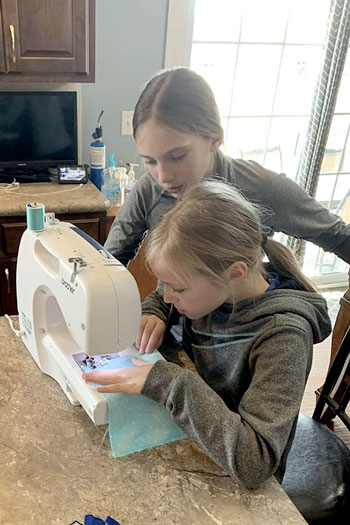 Olivia, 11, said she and her sister have been making masks for family, friends, their church, and other people who needed them.
"We bought yards of different colors of cotton fabric and elastic," she said. "We looked online for a pattern and followed the directions for cutting and sewing."
Chloe, 10, added that their dad, Brent, helped them put the pattern on a large piece of fabric.
"We cut two pieces the same size," she said. "We put the wrong sides together and pinned one end of the elastic to the edge of the fabric to sew over, then pinned the other end of the elastic and sewed. We did this on both sides. Then we turned it right side out. We pinned three pleats and sewed them down. It was finished and ready to wear!"
The girls have made more than 35 masks and counting, getting a thank-you from each person who receives a mask.
"It made me feel good to be able to help my community without leaving the house," Olivia said.
Chloe agreed.
"It made me happy to help out," she said. "I liked doing it and will sew more if people ask me to."
With some experience under their belts, the girls offer other Juniors advice if they take on a face mask project.
Olivia said to be sure to follow the stitch guidelines.
"Have fun doing it, and it doesn't matter if you mess up," Chloe added.
Kali Finch, Minnesota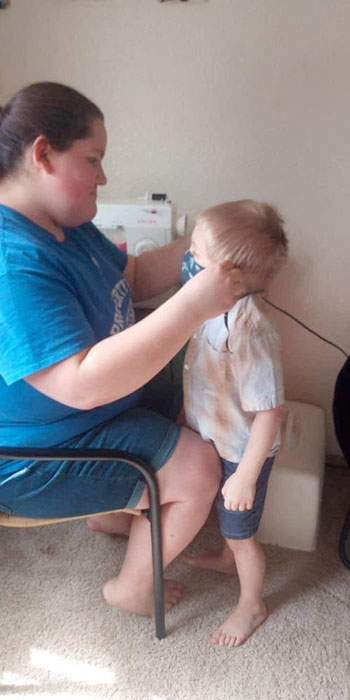 "In this pandemic, it means a lot to help since most people won't go out in public anymore unless they have a mask on," she said. "This way, they feel more comfortable getting their groceries and other necessities."
Finch has made the masks using a sewing machine and fabric bought from Walmart and old clothes that were washed and then sewn together.
"The fact that all the stores sold out of masks inspired us to make our own since we couldn't buy any," she said.
The masks were originally made for the Finch household, and then friends and others asked for one. She has made more than 20.
"We have received quite a few thank-yous from people and even some money as a token," Finch said.
Her brother, Alex, has also helped with the masks.
"The project really brought my brother and me closer together," she said. "We learned that as a team, we are pretty great."
Having some experience with making masks, Finch has her own advice to offer.
"Have patience and have the time," she said. "It is pretty time consuming."
Ashley Colegrove, Florida
"I truly believe in giving back to our nation's heroes, our veterans," she said. "I love being able to volunteer for the local veterans organizations."
Colegrove, 15, has been making face masks for the James A. Haley Veterans' Administration hospital in Tampa, Fisher House, the Baldomero Lopez State of Florida Veterans' Nursing Home, and the All Children's Hospital in St. Petersburg.
"All of these wonderful organizations have been very grateful and have sent thank-you notes," Colegrove said. "It was so nice to see that they appreciated the work I put into the masks."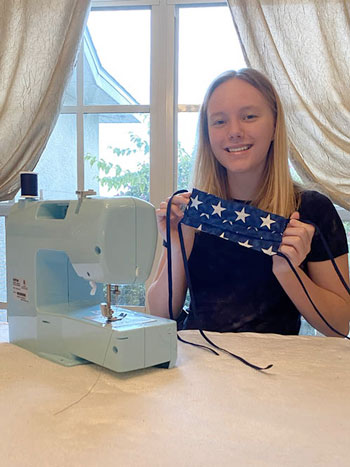 She's made over 200 face masks to help places in need.
Like others, Colegrove has taken up the task of mask-making by hand.
"I had to learn how to sew, which was interesting," she said. "My father taught me after learning from a friend who is sewing masks for local health care providers."
A love for her community and giving back inspired her to make masks.
"When the coronavirus hit, many of the organizations I volunteer for no longer accepted help," she said. "I had to figure out a way to give back by volunteering from home if possible."
This article was originally published in the August 2020 Auxiliary magazine.