Lesa Dingman, 31, a single mom and American Legion Auxiliary Non-Traditional Student Scholarship recipient, has been very active in The American Legion Family since she was young, eventually leading to her becoming an adult member of the ALA. Veterans, military, and their families have always meant a lot to Dingman. Even into adulthood, she cannot sit around knowing these brave men and women are in need.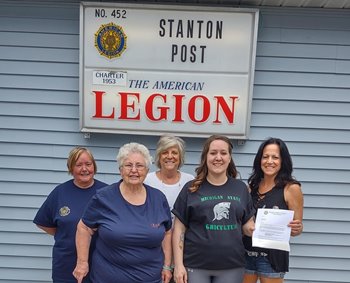 "I feel like they are not really well looked out for in our country like they should be. I feel like by volunteering in the Legion [Family], I can help get them there, which is fulfilling," Dingman said.

In comparison, her path as a student has not been as linear. Dingman first went to technical school, acquired her medical assistant degree, and began working as a medical scribe. Eventually, she realized this was not the career path for her. At that point, she was a single mom working full time. However, she did not let it deter her. Dingman is now pursuing her true passion as a dual-enrolled student at Montcalm Community College and Michigan State University as she studies agriculture operations, despite the uncertainties that come with being a non-traditional student.

"You're too old, or it's not worth it, or you don't have the time, too stressful, forgotten too much since high school, it would be too hard. Those are the thoughts in your head."

Dingman did not succumb to these thoughts and is still going strong as a student, even as she works full time and is a mother — and all with the support of her son.

"My son is always pushing me to go further. I feel like to be where I want to be in life and to be financially stable, getting an education is the route I have to take to get there."

While Dingman has her son for the ever-important emotional support, the ALA stepped in to offer financial support and a show of confidence through the Non-Traditional Student Scholarship.

"This scholarship was that confidence booster that let me know there are other people out there who are like, 'You can do that. You don't have to be a certain age. You don't have to be a certain person. You don't have to be right out of high school,'" she said.

Dingman is a wonderful example that your educational goals are never out of reach, no matter where in life you find yourself. It might be difficult — it may seem impossible — but with hard work and support from those closest to you and ALA scholarships, even the impossible can happen.

Help show non-traditional students like Lesa Dingman that no matter when they start, they can reach their academic goals. Donate to ALA scholarships at www.ALAforVeterans.org/scholarships and make sure all students, of all ages, from all walks of life have the chance to better themselves through a quality education.