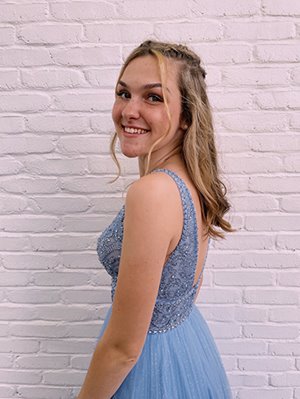 The American Legion Auxiliary annually provides one Junior member in each of the five American Legion Auxiliary divisions with a $5,000 Spirit of Youth scholarship. Rylie Lach, Maryland Unit 11 member, received one of these scholarships.

How long have you been an American Legion Auxiliary member?
I have been a member since birth, so 19 years.

Who made you eligible for ALA membership?
My grandfather, who was in the U.S. Army.

What does it mean to you to have this connection to the military?
I love having a connection to the military and I am proud to have a veteran in my family. Having the advantage to be in the ALA and to support our veterans, servicemembers, and their families due to my grandfather's service is rewarding.

Share your experiences as an ALA Junior member — any favorite events or programs you participated in?
Being a Junior member has introduced me to some amazing women who inspire me all the time. Some of my favorite events and programs I have participated in are Operation We Care, which sends necessities and goods to military personnel stationed overseas. Another one is our Fall Conference because I love seeing all of my friends from across the state.

Why do you think it's important for Juniors to be involved in the ALA?
So that the organization continues to grow and stay strong as the years go on and we lose some of our wonderful senior members. The younger generations are a key part of maintaining this organization, and without instilling in them the important lessons and roles of the ALA, the strength and mission of the organization will go away.

What college are you attending, and what are you studying?
I go to Susquehanna University, majoring in biomedical sciences.

What sparked your interest in this area?
In middle school, I had a speaker come to school and talk about a program at our local career and technology center that sounded interesting. After doing more research and applying to the school, I completed a two-year course in biomedical sciences that made me very passionate about this field.

Any advice to other ALA Junior members who may want to apply for this scholarship?
Continue being an active volunteer as a member of the ALA.

What would you say to donors who support the ALA scholarship funds to help students like you?
I would like to say thank you. There are so many Junior members in need of assistance when it comes to paying for furthering their education. Scholarships from the ALA scholarship funds benefit many Juniors across the nation, and without the donors, it would not be possible.

Is there anything else you want to add?
Being a Junior member has given me many opportunities and helped me form so many relationships that I would not have had the opportunity to make without this organization.

To learn more about the Spirit of Youth scholarship or to apply, visit www.ALAforVeterans.org. To donate to the scholarship fund, go here.