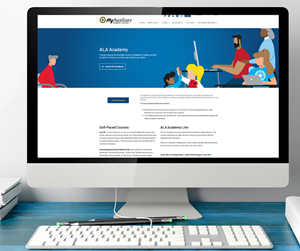 You may have noticed the new learning opportunities that rolled out last fall for American Legion Auxiliary members. ALA Academy Live is an expanded version of ALA Academy. These virtual webinars, held in real time and in under an hour, are offered at different times to accommodate members' time zones and schedules.

ALA Academy Live webinars started out of necessity when National Headquarters realized that regular in-person training would be hampered by COVID-19 restrictions.

The webinars were so well received by members that ALA Academy Live will be sticking around for 2021. With this new format, National Headquarters will be able to reach more members in delivering this important training.

This year, a hearty lineup of mission-related topics will be covered:
Volunteering in your community and in U.S. Department of Veterans Affairs facilities
Adaptive sports
Caregiving
ALA Junior Patch Program
Working with Juniors and The American Legion Family
Junior meetings: in-person and virtual
Several more webinars are being developed. National Headquarters will announce registration for each new session on ALA social media channels (@ALAforVeterans) and in the monthly
ALA eNews
.
If you weren't able to participate in previous webinars, you can watch recordings at
www.ALAforVeterans.org/ALA-Academy
. You will need to log in to access the recordings.
Spread the news – help members learn more about serving mission
Help us get more members involved: If you've taken an ALA Academy Live webinar, encourage others to register too. A great way to increase unit activity and knowledge, the webinars are intended for all members. The more members with this information, the better we can serve our mission.
Here are some ideas to encourage members of your unit to sign up for ALA Academy Live:
Challenge members to take the webinars, and recognize them with a certificate.
Make it a competition. Those who attend the most webinars can be presented (virtually, of course) with a certificate or another award to acknowledge their work.
When you see a webinar announced on National Headquarters' social media, share the information with other members and highlight the benefits. Encourage all members to take advantage and sign up.
While you wait for new webinars, take an ALA Academy course
The ALA Academy received an update heading into the new year. It now has a different look and feel and includes some new features. The Academy offers self-paced courses that can be taken day or night. They are available whenever you are, and you don't have to complete them in one sitting.
ALA 101
ALA Branding and Why It Matters to Me
ALA Communication Methods
Establishing an ALA Culture of Goodwill
ALA Fundraising
How to Deal with Conflict
ALA Leadership: Living Our Motto of Service Not Self
ALA Juniors eLearning Course
This article was originally published in the February 2021
Auxiliary
magazine.