Gold Star Mother's and Family's Day is Sept. 26

It's a group of women you don't want to be part of but are glad they are around when you need them most. Maybe you've seen their gold star pins and wondered what they represented.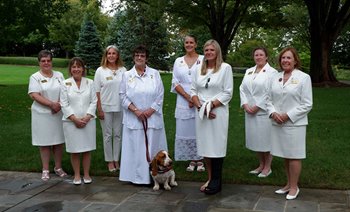 These are Gold Star Mothers, women whose son or daughter became missing in action, died while on active duty, or died as a result of such service. A mission-compatible organization to the American Legion Auxiliary, these women are also eligible for ALA membership.

In 1917, Grace Darling Seibold began visiting returning servicemen in hospitals when her 23-year-old son, George Vaughn Seibold, volunteered to join the military. He regularly wrote home to his family, but one day, the letters stopped coming. Grace continued visiting hospitalized veterans with a twofold mission — to serve veterans and look for her son. In 1918, the family received news of his death.

Knowing there were other women in the same situation — volunteering and grieving the loss of a child(ren) — Grace helped organize and became the first national president of American Gold Star Mothers Inc. The organization was incorporated in 1929.

There are approximately 1,100 moms who are part of American Gold Star Mothers Inc. The organization was named after the Gold Star Banner that families hung in their windows in honor of the deceased veteran. Service flags with a Blue Star are for each living member in the service.

"Grief can overcome you easily if you decide not to do anything about it," said Cindy Tatum, current American Gold Star Mothers Inc. national president. "That mission of service and volunteering at hospitals across the country has continued. It's just a primary focus that we have as moms, and I think most moms will tell you it's a very healing process for you to be able to do something for someone else."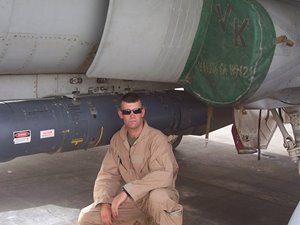 Tatum's eligibility is through her late son, U.S. Marine Corps Cpl. Daniel Lee Tatum.

"He was very funny," she said. "He could walk in a room and give this big, big smile and this big, big bear hug and anyone who was in there would have a great day."

On Dec. 24, 2007, a Marine buddy of Daniel's drove his vehicle through the guardrails for the commuter trains in San Diego, killing both men. Tatum was notified Christmas morning with a knock at the door.

"The words no mother wants to hear — 'We regret to inform you,'" she said.

Tatum struggled for a few years while a Gold Star Mother kept calling, inviting her to join. Eventually, she did.

"I had to try to do something that Daniel would say, 'Hey, good job, Mom. You didn't just sit and let the grief overwhelm you,'" she said. "I made a conscious decision to do something different."

This is how many mothers end up as part of the organization.

"You can walk in a room full of moms and you know they have all experienced that same loss that you have, and that somehow they have all managed to keep moving forward," Tatum said.

Mothers and family members who have suffered from loss are recognized annually on Gold Star Mother's and Family's Day, which falls on the last Sunday in September. This year, it will be Sept. 26.

American Gold Star Mothers Inc. annually holds an event in Washington, D.C., where a wreath is placed at the Tomb of the Unknown Soldier, and a ceremony to honor the mothers and families of those fallen takes place. Officially including families was added in 2009.

In addition to that Sunday event, on the day prior, the organization holds a walk-a-thon to raise awareness of veterans who dying by suicide. The walk is 2.2 miles, referencing the 22 veterans who die by suicide every day.

To learn more about American Gold Star Mothers Inc., visit www.goldstarmoms.com.

"We are proud of the service of our children, and we don't ever want our children to be forgotten," Tatum said.