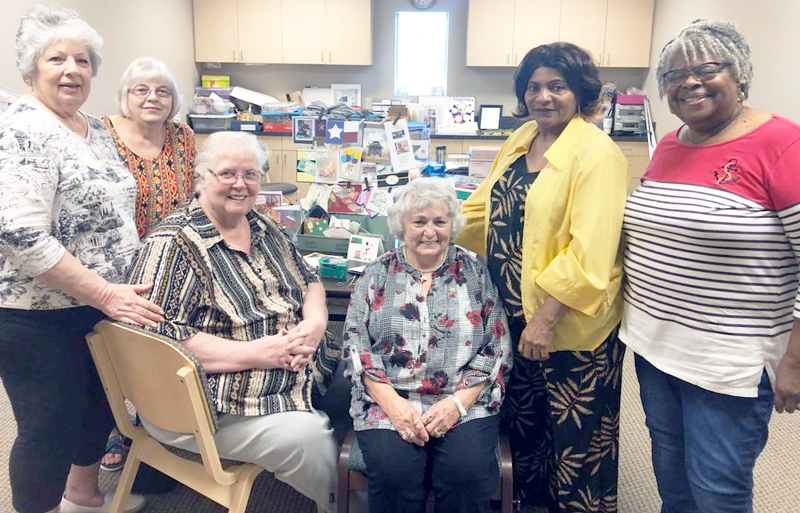 ALA Unit 131's Texas Cards for Troops program is carried out by several members of Unit 131, and some non-member volunteers, pictured here.
Even in a world where emotions are conveyed often with emails and emojis, getting a greeting card can still bring a smile to someone's face. It's a simple joy that's signed, sealed, and sent with special messages like "Thank you," "Happy birthday," "Happy Mother's Day," and "Happy Father's Day."
Through its program Texas Cards for Troops, a handful of members in ALA Unit 131 in Longview, Texas, bring boxes of that joy to U.S. military servicemembers deployed overseas. About 2,000 cards are sent in each of the two shipments of care packages they mail annually. One shipment goes out around Christmas, while the other is sent in time for Mother's Day and Father's Day.
---
"We never want our servicemembers to think they are forgotten. We want them to know they are appreciated and loved," said Linda Langley, a Unit 131 member who helped get the care package program started several years ago.
---
Each care package in the Christmastime shipment includes a large greeting card of appreciation, signed by members of the general public, for the receiving servicemember to share with his or her comrades. There's also an appreciation card handcrafted and signed by a local child for the servicemember.
In addition, each package contains several greeting cards for various different occasions – a birthday card for a loved one back home, or a sympathy card for the family member of an injured or fallen comrade, for example – for the servicemember to send to others. Three of those are cards handmade by the Texas Cards for Troops, and two are cards that were either purchased, donated, or repurposed. Texas Cards for Troops receives cards repurposed by the "Rockin' Grannies" — a group of ALA members from Unit 320 in Gilmer, Texas.
Also sent at Christmastime are gallon-size plastic bags with at least 11 items for the individual servicemembers. The items sent depend on donations and how much the unit is able to purchase. Typical things included in the individual bags: instant oatmeal packets, instant hot chocolate packets, hard candies, Tootsie pops or candy canes, candy bars (if they've been donated), and a handcrafted holiday ornament. Small, folded American flags, each placed in a little plastic bag, are also part of the care packages in both shipments. Those flags are provided by the Rockin' Grannies.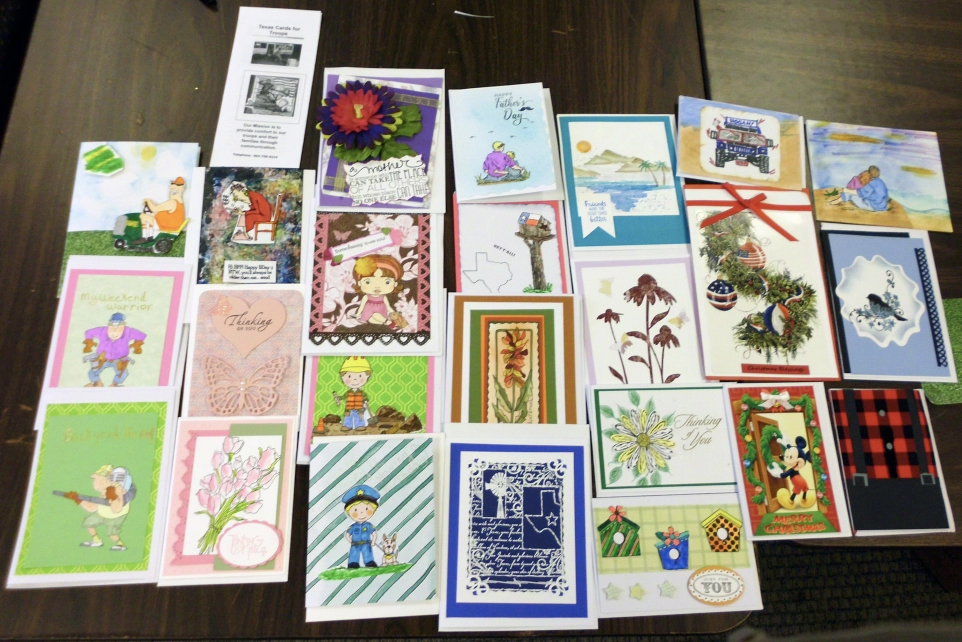 A sampling of some of the greeting cards made by or donated to ALA Unit 131's Texas Cards for Troops.
Texas Cards for Troops' chaplain boxes (named so because they are care packages sent abroad to military chaplains for distribution to servicemembers) typically include puzzle books, playing cards, pencils, stationery, sympathy cards, thank-you cards and get-well cards, plus small-sized toiletries such as shampoos, conditioner, lotion, and lip balm. Sometimes, knitted helmet liners are included. The liners donated to Texas Cards for Troops are crafted from a pattern that meets military regulations, as does the color of the liners and the yarn used to make them, Langley explained.
Unit 131 pays the shipping costs with money raised through different fundraisers held throughout the year. Cardmaking supplies are provided by those participating in the Texas Cards for Troops program, and are also provided by donations from various individuals and organizations.
For more information about Texas Cards for Troops, email alatct@yahoo.com.