Geraldine (Gerry) Hince has a unique perspective when it comes to the American Legion Auxiliary. She is eligible for membership as the daughter of a World War II veteran, the spouse of a U.S. Army veteran, and the mother of two sons in the U.S. Air Force. Not to mention she is a veteran herself, having spent 31 years in the U.S. Army. Being a veteran and the daughter, spouse, and parent of veterans and active-duty military, Gerry has more knowledge than most when it comes to the problems our nation's heroes face.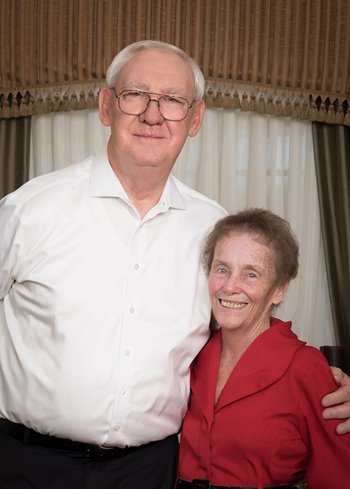 For Gerry, the families and spouses of veterans and military are particularly important. Gerry and her husband depended on each other greatly as they raised their children throughout their careers in the Army. There were times when hard decisions had to made, but they made them together.
"At one point, I took one of my boys with me and we moved to Arkansas because I was sent there, and John stayed with the other two in Virginia because they were in high school and needed to stay in the same high school," she said. "I don't think military spouses get the proper recognition. They just don't."
Gerry has a soft spot for ALA Girls State, thanks to the program's impact on building strong female leaders. Suffice to say, she is excited for her own granddaughters to get to participate.
"It's an opportunity for [the Auxiliary] to become very involved with young people's future, because that's a week they give to us to frame them, to educate them on how to really be Americans."
Even with her soft spot for ALA Girls State, Gerry devotes plenty of time to the Auxiliary's other programs and events. Whether it's the Poppy Program, or her unit's ever-so-popular weekly donuts and coffee, Gerry is usually there, building the ALA's presence in her community.
"Every Thursday at our post, we have free donuts and coffee for veterans and anybody who wants to be around veterans," Gerry said. "Before COVID, we averaged about 150 [attendees]. It has made such a difference in this community.
"When our congressman comes to town, one of the things on his to-do list is donuts and coffee. That's pretty important," she said.
Even though Gerry gives so much of her time volunteering with the ALA, she is also a monthly donor — giving every month to the Auxiliary Emergency Fund and providing long-term support for veterans, military, and their families who have been affected by a natural or financial disaster.
When asked why, Gerry says a resounding "Why not?"
"Some people can't afford to do that, and I understand that completely. They give their time. But if you can afford to help out with finances, we need to do that," she said.
Gerry has made a tremendous impact on her community through her time volunteering, and just by donating each month to an ALA program of her choice, she has spread that impact to veterans, military, and their families across the nation.
Be like Geraldine Hince and change the lives of our nation's heroes by making a monthly donation at www.ALAforVeterans.org/monthly-gifts and join fellow Heroes Giving Hope members — a group of monthly donors changing the lives of veterans, military, and their families one monthly donation at a time.