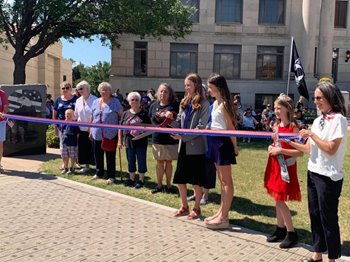 As part of a new pathway in Newkirk, Okla., Unit 165 Junior members Hannah Cross and Brylen Liberton wanted to include a Walk of Warriors to honor all veterans.

The final idea was for each veteran to have their own paver with their first and last name and military branch of service. Some pavers were customized beyond that.

The basics
Cross said there are two important components of a project like this to take into account before getting started.

First, have a good foundation with the right organization. For the Juniors, it was having support from their ALA unit.

"It allows multiple people to back the project and help spread the word," Cross said. "Your American Legion Auxiliary mentors are a great asset to you, and in my case, they were very supportive and willing to help with anything I asked of them and were very excited about the project."

Second, have the right people on your team. Cross lives in Newkirk, but wanted to reach the whole county with the project. That's when Liberton came in, being from a larger town in the county, she was able to help spread the word, and together, they could cover the entire county.

"We made lots of presentations, met lots of people and veterans organizations all over the county, and tried to reach as many veterans as possible," Cross said. "A lot of the older population doesn't have social media, so they rely on us coming to them or the newspaper or radio to keep updated throughout the whole project."

Process for brick paver project
1) Make sure the project is possible. You need to have a plan for the location, focus or topic of your project, number of pavers, how much sidewalk is needed, and measurements for the space, etc. For this project, a local engineer donated plans for the area to put the pavers in. That might happen for your project, too!

2) Make sure the project is approved. In the girls' case, it needed approval by the city and then when the project changed, it needed to be approved by the county.

"It was going to be a city project, but due to some complications with the sidewalk we were going to include it on, it had to be moved to a county property," Cross said.

To get that approval, presentations were made at both the city and county levels.

"The longest, hardest part was getting everything approved and ready to go," Cross said. "Once you put the information out there, it's pretty smooth sailing. People got really excited about it. If you lay a solid foundation for the project, it should be pretty good."

3) Find a paver company to work with on the project.

4) Advertise the brick pavers for purchase.

During this stage, the girls focused heavily on advertising the project. They made a Facebook page, made presentations to veterans organizations, and participated in radio and newspaper interviews. The paver company set up the website with all the information about the pavers and forms to fill out. People could purchase pavers online or fill out a paper form.

5) Check paver order forms before bricks are finalized. The Juniors went through all of the online and paper order forms to verify that what was typed or handwritten matched what was on the brick preview for approval.

6) Send final information to your brick paver company, and make connections with the construction companies. Both companies involved with this project donated labor and materials.

"Doing a project to support our veterans and all that they've done, you will get extreme support from all sorts of companies and people," Cross said. "I didn't go in expecting them to donate — I was ready to use whatever we had profited to pay for the installation and labor, but they surprised us and ended up donating all of it."

One company removed the sidewalk and laid the new concrete shelf. A second company installed the pavers. Construction was the quickest part of the project, Cross added.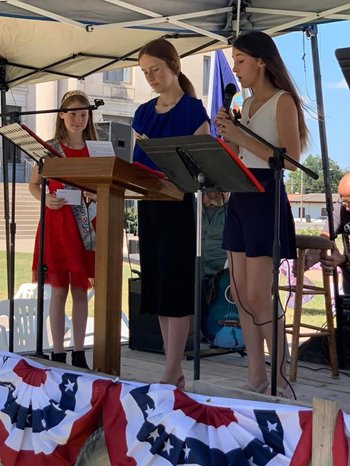 7) Plan a dedication ceremony for the project.

Lessons learned
Having been through a brick paver project now, Cross reflects back.

"Keep your angle in mind," she said. "That can be hard when there is a lot to do on the project, and it takes a lot of time. Just remember why you are doing the project and the end goal."

For example, the girls had a goal of 100 orders but ended up with 500. The engineer had to change the plans to accommodate the extra bricks, but it was possible to do so. Everyone had to be flexible and work with the new plans.

Additionally, Cross offers advice to other Juniors or ALA senior members who may want to do a similar project.

"Don't go into it thinking this is exactly how it will be," Cross said. "Likely, something will be different than what you originally thought. The place the project ended up being at was a lot better. It made sense leading up to the war memorial."

By Sara Fowler, Staff Writer