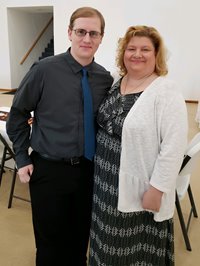 A mother of a former U.S. Army medic, Angie Foster saw how much of a toll military service can have on a person's mental health. Her son, Joshua Peterson, returned from his time in the service suffering from post-traumatic stress disorder and moved into a facility to receive care. There, he was introduced to art therapy.

"He was never an artist growing up," Foster said, "and I could see from when he started, his pictures were very dark. He may not talk about it, but he would paint his feelings, what he needed to get out."

Foster saw her son's recovery firsthand — it was visible in the art he had created.

"Toward the end of his therapy and his time in the facility, his paintings were brighter," Foster said.

Seeing that progress, Foster realized that more veterans could benefit from artistic expression. She went to her local U.S. Department of Veterans Affairs Medical Center in Grand Island, Neb., to see if they could host a Veterans Creative Arts Festival (VCAF), a program she had seen the American Legion Auxiliary promote over her 16 years of membership. The program is meant to aid in the well-being of veterans by introducing them to art therapy and celebrating their talent with a showcase and festival.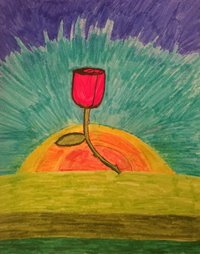 Though Foster's idea wasn't acted upon immediately, her passion never dwindled, and when staff at the Grand Island U.S. Veterans Affairs Medical Center took an interest, they knew exactly who to turn to. After figuring out details and getting administration on board, they asked Foster to apply for a VCAF grant from the American Legion Auxiliary Foundation to help get things started.

"At first, I was worried when they said we need to apply for a grant," Foster said, "but it was really easy, and the ALA Foundation worked with me a lot during the process."

The ALA Foundation awards Veterans Creative Arts Festival grants up to $2,500 to ALA units or departments that host a VCAF event that feeds into the National Veterans Creative Arts Festival.

Foster's ALA unit was awarded $1,630, which helped the festival have success in its first year by providing easels, display materials, and prizes for the winning veterans. Since then, they have had more entries and interest than ever, including another nearby veterans hospital that would like to host a VCAF of their own.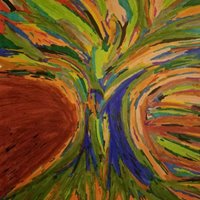 If your local VA facility does not currently host a local Veterans Creative Arts Festival, you can work with your ALA unit and contact a VA staff member who instructs creative arts, or a voluntary services coordinator to get started.

If you have more questions regarding how to start a local Veterans Creative Arts Festival in your community, please visit www.creativeartsfestival.va.gov. If you already plan on hosting a VCAF this year, you can apply for an ALA Foundation grant to support your event at www.ALAFoundation.org/grants.