Remember the little green Army men you played with as a child? For generations, these plastic soldiers have been found in children's toy boxes. They are part of our pop culture, even having a role in Disney's Toy Story movie franchise. In 2011, Time Magazine named Army men to their list of 100 most popular toys of all time.

But did you ever notice these toys did not include Army women? If you did, you're not alone.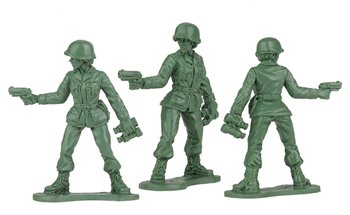 Women and girls have been asking for a female version for years. Now, a wish has been granted and Army women are now available. It took the actions of a little girl and the media to catapult this toy wish into a reality.

Jeff Imel, president of BMC Toys, was often asked if he would add a female version to his product lineup. He knew that one day he wanted to take on the project. He just didn't realize how soon "one day" would come.

The project gained traction in 2018 when retired Master Navy Chief Joann Ortloff sent a letter to Imel explaining why Army women were needed and why they would be a great product. She backed her reasoning with statistics about women in the military.

Imel started taking a closer look at the idea and even had sketches made. He wrote a blog post to gauge interest and created a mailing list for those who were wanted a female version of the toys. Ortloff was instrumental in drumming up interest, but despite those efforts, the idea didn't fully take off at the time.

In 2019, 6-year-old Vivian Lord set a chain of events into action. Vivian sent a letter to toy makers asking for Army women. Only one company responded — BMC Toys. Imel wrote back saying he had hoped to add a female version in a couple of years.

Vivian's letter and Imel's response gained national attention. "Then the media storm happened, and I got propelled along on this wave of media interest in the story," said Imel. "I figured, 'Well, I'm going to be on the CBS Evening News. This is a now-or-never moment.'"

Imel sprang into action, and he started a Kickstarter campaign to help fund the product development. The funds raised helped Imel make Vivian's wish come true, and he delivered her a set of Army women by Christmas 2020.

The wish was not only Vivian's. Since the toys' launch, Imel has received many thank-you letters from females of all ages who had always wanted Army women. Imel is glad he could deliver.

"My intention with this toy was not to make any sort of statement or anything like that. I just wanted to add a toy that would be kind of part of the pop culture universe of plastic Army men," said Imel. "My hope is that they just blend into the background over time, and we forgot that this was ever a story. Another generation will be finding these at the bottom of toy boxes that their parents had and think they're from the '70s or the '60s — not realizing that it was kind of a big news story in 2020 that there were women toy soldiers for the first time."

The 36-piece set includes 22 different figures, plus a military working dog with leash and stretcher. The toys come in two shades of green, as well as tan, blue, red, and pink.

An unexpected spinoff of the Army women project is the creation of Rosie the Riveter figures. The sculptor of the Army women, James Van Schaik, suggested the Rosie figures as an incentive to help promote the Kickstarter campaign. They were so popular that Imel decided to add Rosie to the product line.

These toys are manufactured in Scranton, Pa. For more information and to order, visit www.BMCToys.com.