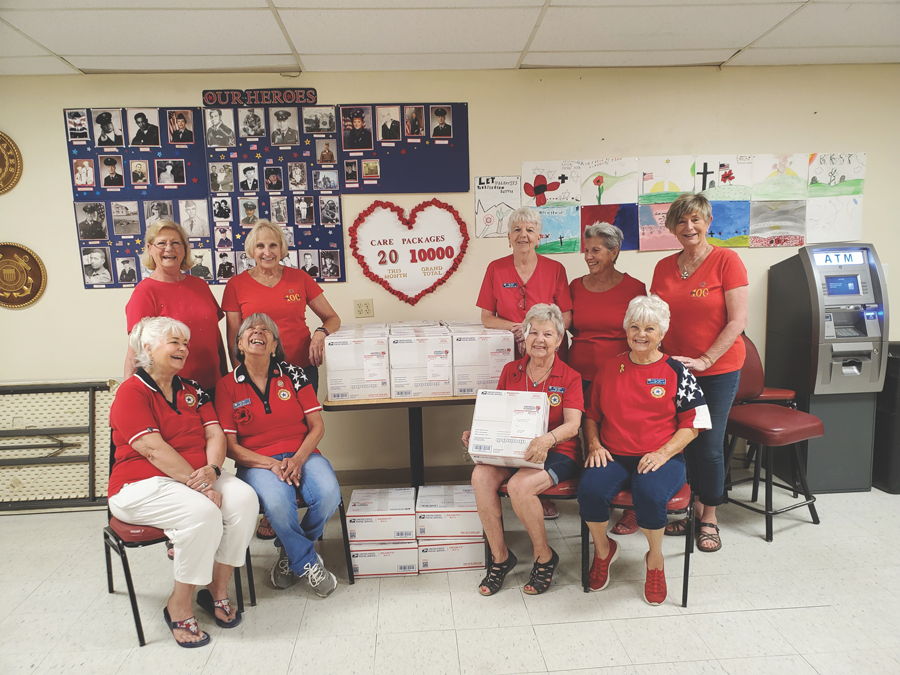 The sights and smells of the holiday season are what make it such a wonderful time of year —presents neatly wrapped and nestled under the tree, twinkling lights reflecting off the snow, the smell of freshly baked cookies filling the house, and family members gathering together to watch the next Hallmark movie or bundle up to sing Christmas carols outside.
For our servicemembers who are away from home during this time of year, missing out on traditions can be difficult.
To help give them a taste of home and much needed items while deployed, American Legion Auxiliary units across the country make it their mission to send care packages to servicemembers who have sacrificed being home for the holidays in order to give us the opportunity to enjoy the freedoms we have as Americans.
Auxiliary
magazine talked to two units with successful care package programs. They've shared tips and resource ideas that other ALA units can implement to send their own care packages to servicemembers who deserve a reminder that they're not forgotten.
ALA UNIT 44: ELEPHANT BUTTE, NEW MEXICO
Having the process down to a science, members of Unit 44 in New Mexico create an assembly line to put together care packages for deployed servicemembers. The unit has been doing this since 2003 when Marty Novak and Liz Nellis started the program. In the beginning, seven packages were sent to a few people from town, and it grew from there as they added names to their mailing list — even sending as many as 95 boxes in one month.
"Sometimes, we got down to much less than that with the pandemic, but we have continued to send them every month," Novak said. "We have only missed one month when the pandemic first started, and we were shut down."
The number of packages can vary each month, depending on how many names they have. Some names come from local people or others in New Mexico — the area is a retirement community on a lake — but people come from other places and stay the winter there. Once they find out about the care package program, they too share names of those deployed so a care package can be sent.
In addition to names coming from locals and the state of New Mexico, other states have sent names of those deployed. Usually, the unit sends anywhere from one to three extra boxes (in addition to the named person on the box), according to how big the group is so there are enough items to share among the servicemembers.
This year, the unit hit an amazing milestone — June 8, 2022, marked 10,000 care packages mailed since the start of this endeavor.
---
"It just blows your mind," Novak said about the 10,000 packages. "We had no idea we would be doing it for over 19 years and never thought we would get to 10,000."
---
Items in the care packages vary but can include wipes, socks, toiletries, salsa, jerky, packages of Oreos, homemade cookies, lotions, lip balm, shampoo, toothpaste, and more.
Socks are a big item — when one local servicemember came home on leave, the unit asked what else he wanted or needed in a care package, and he said socks.
"They are wonderful," Novak recalled him saying. "They could go 41 days between showers. Now we put in three pairs of socks regularly in the care packages."
The unit has received a lot of help locally, including a grocery store that has donated salsa to the care package cause since the beginning.
"One of our local girls said when she got her package, the commander would divvy the salsa out by the spoonful so everyone would get some," she said.
Another local recipient informed the unit how they used to split up packages of Oreos, leading to two to three packages sent in a box rather than just one.
"We would send the package of Oreo cookies with six in a package, and they would carefully break each Oreo into four pieces to share," she recalled.
There are items the unit recommends not sending. Novak said perfumes or soaps aren't included in care packages because "every piece of candy will taste like that soap."
In addition to traditional items, care packages have included letters and drawings from kids at the local schools, copies of the local poppy poster contest submissions, pocket flags, and poppies.
"It's kind of a community project," Novak said. "A lot of people donate goodies to put in there."
After seeing Unit 43's Novak and Nellis giving a certificate of appreciation to the grocery store that donates the salsa, a man gave the unit a check for $500 and has been donating for nearly 18 years. He lives 200 miles away in Albuquerque and comes to the area on weekends.
"We have a wonderful community," Novak said.
The process of putting together care packages over the years has been perfected through trial and error with the unit finding its rhythm. Novak shops during the month so they have enough supplies, other members help by making shipping labels and getting boxes and assembling them, filling the boxes, taking inventory of what's left so Novak knows what to shop for next month, putting in any last-minute items, taping the boxes shut, labeling them, and taking them to the post office. They do include information in the package that lets the servicemembers know it came from their unit.
"It takes about an hour — we still have time to socialize and laugh and joke," she said.
The program is funded by Post 44, bake and dessert sales, and individual donations.
Novak said the unit has received feedback from those who have received their packages —emails have been sent, as well as items such as flags and pictures of a deployed unit.
"When they say something about how important [the care package] was to them and the feeling they got that somebody cared — it touches your heart," Novak said. "That's the reward we all get. When I get an email or pictures, I read that to the ones who helped do the care packages."
Novak offers advice to ALA units that may want to launch a care package program.
"Start small," she suggested. "It isn't quite as overwhelming when you start small. Just make sure you have the names and addresses. Boxes have to be addressed to an individual. If they aren't there and you just send it in a regular box, it can be thrown away. If you send it through priority mail, it can be returned."
The project's continued success each year keeps the unit members going and reminds them why we do what we do as an Auxiliary.
"It's just something that is where my heart is," Novak said. "I don't think we will ever stop. We enjoy doing it. No one complains about it being care package time."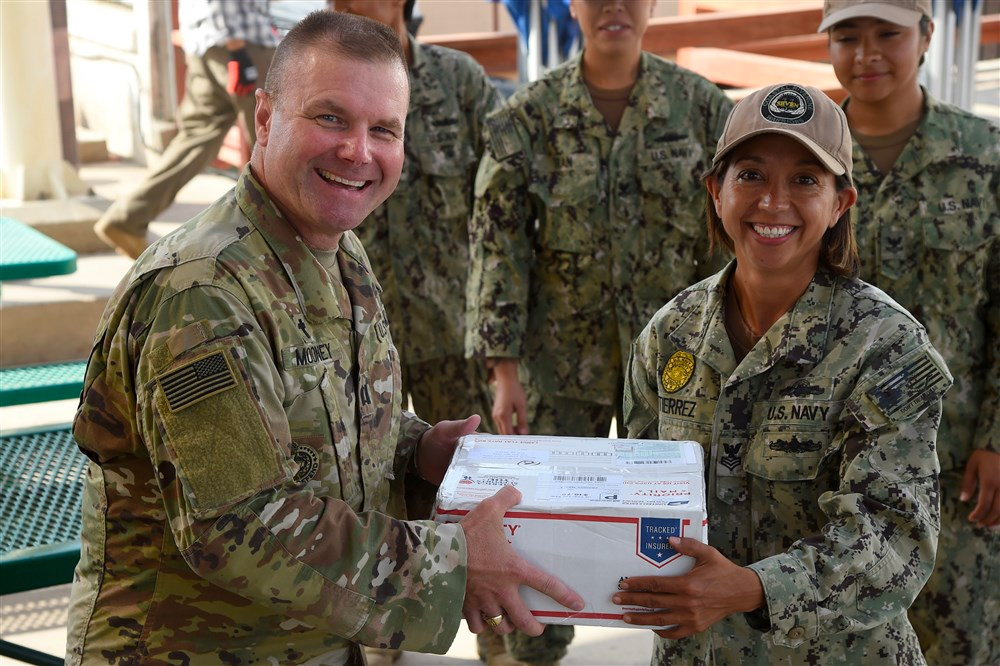 Are you wondering what the servicemember in your life may want? These items are always a hit:
Drink mix packets like water flavorings, cocoa, tea, and apple cider (note — coffee is restricted in some areas).
Pre-packaged, individual-size healthy snacks like protein bars, nuts, seeds, dried fruit, or beef jerky.
Non-perishable, pre-packaged food and sauces.
Pre-packaged, individually wrapped candy, cookies, and chips.
Hygiene items like toothbrushes, toothpaste, floss, roll-on deodorant, baby wipes, and feminine hygiene supplies.
ALA UNIT 150: WACONIA, MINNESOTA
This is the third year for Unit 150's care package program. They send their boxes annually, typically during the winter. Their first year of the program began at the height of COVID-19.
Stephanie Hodge, unit president, sends a letter to businesses in town requesting donations of items or monetary contributions for the care packages.
After fundraising is complete, the unit decides when to buy the products.
Items sent overseas have varied but have included beef jerky, gum, pencils, books, candy, powered drink mix hydration kits, flavored water, granola bars, Pringles, Skittles, dried fruit and nuts, ChapStick, artwork from a local elementary school, and more.
"We try to think of a good variety," she said. "We want good stuff in there."
A local sporting goods store donated footballs (they are deflated before sending to help with spacing issues), and the local library donated books that are out of circulation. One book is included per box. Each box averages about 25 pounds of items.
A note is also included in the boxes from the Waconia Auxiliary, along with a list of local businesses that donated to the cause.
Instead of sending all boxes directly to individuals as it can be hard to get individual servicemember mailing information, Unit 150 often sends the boxes to chaplains stationed abroad who then, in turn, distribute them among the whole group they are with.
The first year, 150 boxes were shipped and then the unit set a goal to double it to 300 the second year. Now, the goal for the unit is 300 a year. The unit has found that number to be manageable with the resources it has; any more than that would be difficult, Hodge said.
To begin the process of finding items not directly donated from area businesses, the unit turns to Costco to purchase supplies in bulk.
"A lot of thought goes into what we will buy," Hodge said. "We try not to get the same thing each time and try to do high quality items."
Once the items come in and are picked up in a trailer, unit members help bring them inside the post for inventory, figuring out quantities to go in each care package. They often include multiples of one item — they can't just have one granola bar or one bag of Skittles per box, Hodge said.
"We have no problem filling them up," she said.
People from the community often help with the assembly line process.
---
"We have a whole committee that works together to do all this," Hodge said. "It has become our flagship event."
---
Funding for this unit activity is completely by donations. The unit reaches out to local businesses, the local newspaper, and shares in the
Legion newsletter
, as well as on social media.
To help cut costs, the unit utilizes Shipthrifty, an Auxiliary member benefit since late 2021. They offer online shipping tools for individuals, military families, and small businesses and help create and print shipping labels for major carriers online to save time, money, and hassles.
For example, the cost for the original boxes that had been physically picked up from the post office were quoted at $6,645. The cost of ordering a different type of box online was quoted at $3,384.
"It was life-changing," Hodge said. "We were getting ready to fill out labels by hand. The people at the post office could only process one at a time and had to have extra people on staff to do so. This has saved time, money, and frustration."
It took less than 10 minutes to create labels for all 300 boxes, she added.
There are no fees involved with Shipthrifty. They provide simplified shipping, discounts, tracking, and reporting. They particularly specialize in military care package shipping for APO, FPO, and DPO addresses to make it easier for families and organizations like ours. For more information, log on to the ALA national website at www.ALAforVeterans.org or contact them directly at www.shipthrifty.com.
Although a very rewarding project, there are some difficulties that come with putting together a care package program.
"The logistics of it all," Hodge said. "It takes a big room to assemble the items. It's like a two-day process."
Hodge offers advice from her experience with care packages:
For shipping, use Shipthrifty. It saved so much money.
Get a good team of people who are problem solvers, solution driven.
Be really organized.
Keep notes for the next year. In the first year, you kind of guess and see how it goes. Then, after that, you will know what you bought the previous year. Take note of out-of-stock items; you want to spend all the money you have for the project.
And maybe the most important advice: "Have fun and go in with a great attitude," Hodge said. "We put a lot of work into it."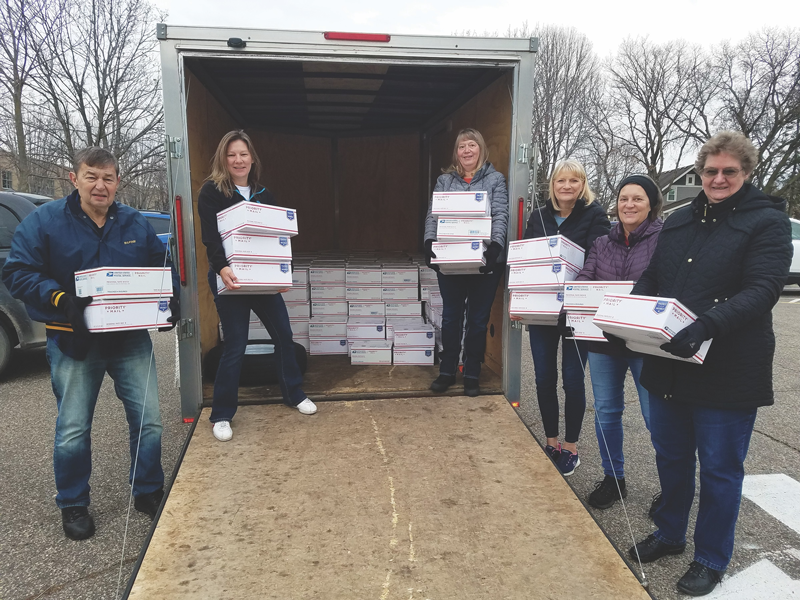 Is your unit interested in starting or improving a troop care package event? Here are some tips from the experts at Shipthrifty:
Set your timeline: Keep in mind delivery times around the holidays.
Determine your budget: Will you ask for donations? Think about product, shipping, and materials.
Find servicemembers: You must ship to specific individuals, so collect addresses from the community.
Pick your box: Not all boxes are the same!
Consider the restrictions on what you can send (they vary from base to base).
Create and attach labels: Shipthrifty makes this process easy with their online tools.
Know your drop-off options: You can drop off packages or schedule a USPS pickup.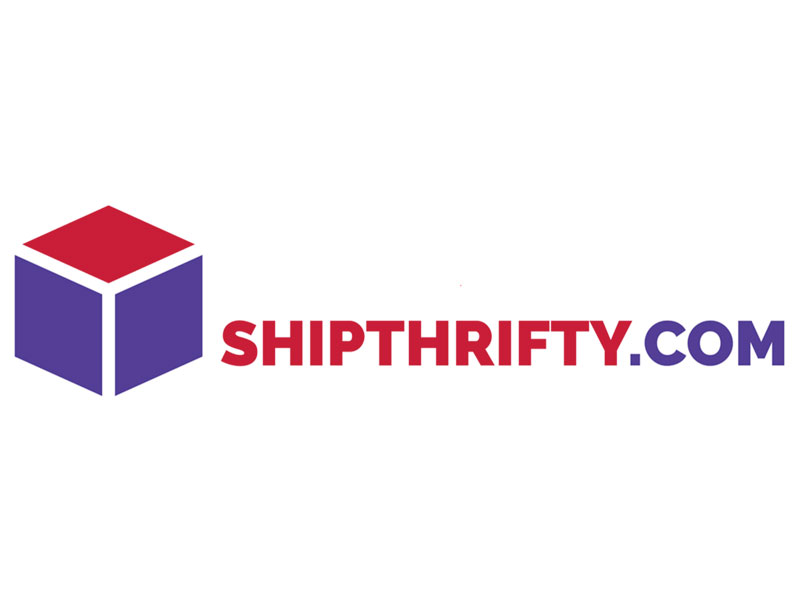 Mastering Military Shipping with Shipthrifty (an ALA Academy course with all the details!)
Snapshot view of what participants will learn in this webinar:
Meet your ALA member benefits provider — Shipthrifty — and how they can help you with all of your shipping needs this holiday season
Learn the ease of shipping with Shipthrifty, focused specifically on military care packages.
Visit www.ALAforVeterans.org/ALA-Academy to take the course today!
By Sara Fowler, Staff Writer