Veterans across the country are busy competing at their local Veterans Creative Arts Festival, hoping for a chance to make it to the national event in 2024 in Denver.

In 2023, over 2,000 veterans submitted over 4,000 entries into their local creative arts competitions from 129 U.S. Department of Veterans Affairs facilities in the divisions of art, creative writing, dance, drama, and music. Following local judging, the finalists' entries advanced to the national level where they achieved first place in their category.

In honor of the local Festivals taking place, we are throwing it back to the 2023 national Festival and taking a closer look at one of the attending veterans.

Wendy Major-Condarcure, U.S. Army
U.S. Department of Veterans Affairs facility: Tampa, Fla.
Drama Division, multimedia

Tell us about what you did in the military.
I was in the National Guard. I was on active duty so long, I actually got eight years active duty with the National Guard in Louisiana. I served through several different hurricanes — different categories — the BP oil spill, along with a few flood orders, and a deployment overseas.

On deployment when we were overseas, for R&R, I would help teach other veteran soldiers line dancing and swing dancing. It was the biggest part of getting me through the deployment.

How did you learn to dance?
I'm from Louisiana — if you don't know how, then there's something wrong. I was part of the marching band almost my whole life where I grew up. It just became second nature. Zydeco and two step. Not super different than each other. I love it. Dancing is just another way of expressing yourself and how you feel. I have ADHD as well, so I just have this ball of energy up in me that I have to get out.

I'm a pool cleaner now. There are so many different ways to net the top of a pool. When you have a dance movement in mind — like a grapevine — it allows you to cross your feet forward or backward while still allowing upper body movement, and it helps me rake the top of the pool faster than I ever thought I could. I literally do a cha-cha-cha when I'm vacuuming the bottom of a pool because you are doing forward and backward movement. I've been called out a few times about my dancing on the side of the pools.

How did you get involved in the creative arts?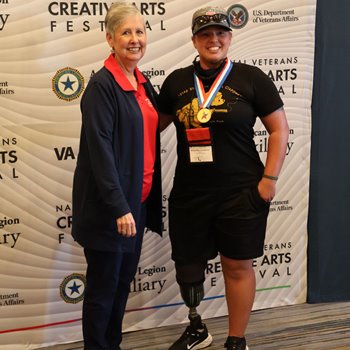 That would be my dance/movement therapist, Brittni. When I had my leg amputated in 2021, she said, 'I heard you used to dance.' Oh boy. I didn't know what I was about to get myself into. She taught me different ways to integrate my physical therapy into dance movement in order to regain a lot more movement I didn't think I was going to get back.

How has dancing helped you heal?
To be honest, I never used to be like this. I used to be one of those typical vets — the grumpy, dysfunctional kind who bah-humbugs everything. When I had my accident in 2019 when I was run over by a truck, I realized I wasn't living my best life. I realized something had to change. So I started doing a lot more — dancing, soul searching, doing what I do best to work this out. If you don't do something that's going to help you out, you are never going to get out of that shell. The only person who can help you is you. I had to pull out something inside me that I didn't think was still there.

I'm that one person who has no problem telling you what I truly feel. I was under the impression that I would have to do a few things, but when I got here, that was not the case at all. I don't really view myself as a singer very much. I like to listen to others who have pipes. I discredit myself a lot of times. Coming out here, you are in the choir. I didn't realize how much of a voice I do have.

What's it like being at the national Festival?
Meeting other veterans out here has been a humbling experience. I'm a people person whether I like to admit it or not. Taking the time to listen to some of the people's stuff, other vets' stories out here, opened my eyes to maybe what I went through wasn't just what I went through. Maybe it was gone through by other people.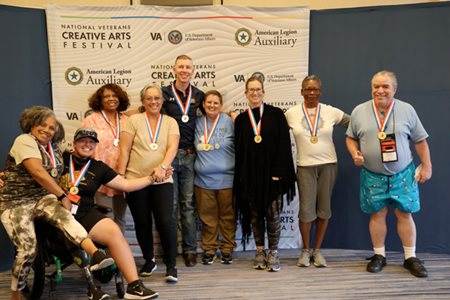 Tell us about the camaraderie aspect of the Festival.
The camaraderie out here is something. You have to be a veteran to understand what we do. We are a certain type of people. We are used to the profanity, the bad jokes, we all have our own. We talk so hard on each other's branches, but at the end of the day, we are still up there singing the right notes we are supposed to sing, holding hands with the person from the branch we just made fun of.

To those who've never been to the national Festival, what would you say?
Come out and see other vets. What do you have to lose? Come out here and hear other stories and hopefully that will help you tell your story, and you will realize you aren't alone in this. At the end of the day, it's about realizing you are never alone no matter how alone you feel.

Learn more about local Festivals and the national Festival here.