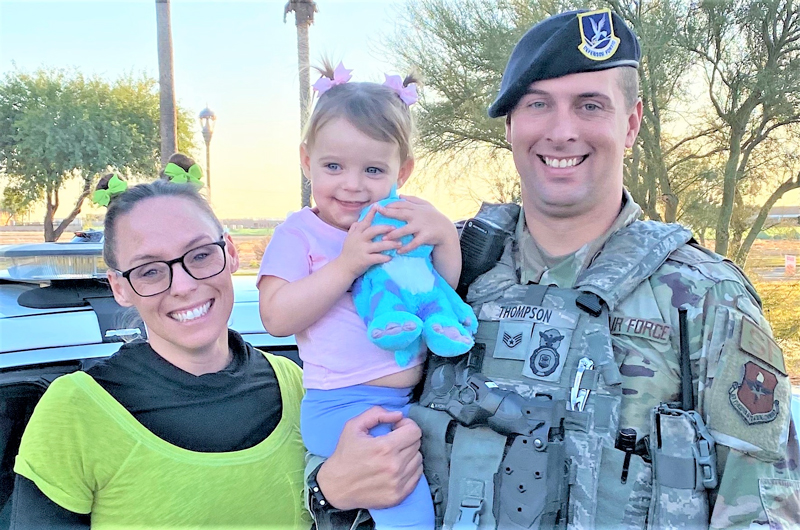 Sarah Thompson and her husband, U.S. Air Force Staff Sgt. Will Thompson, with their daughter, Lilly
Photo submitted
Auxiliary magazine, the quarterly national publication of the American Legion Auxiliary, paid tribute to spouses of U.S. servicemembers with a May 2020 feature article that told the stories of three military spouses. The article was written in appreciation for the many sacrifices these individuals make when their loved ones are away, serving our nation. The ALA will occasionally feature more of these stories in our brief series, "Walking in the shoes of a military spouse." (Check out the original feature on page 30 in the magazine).
Second blog in our "Military Spouse" series, presented in three parts
Guest blog by Sarah Thompson, military spouse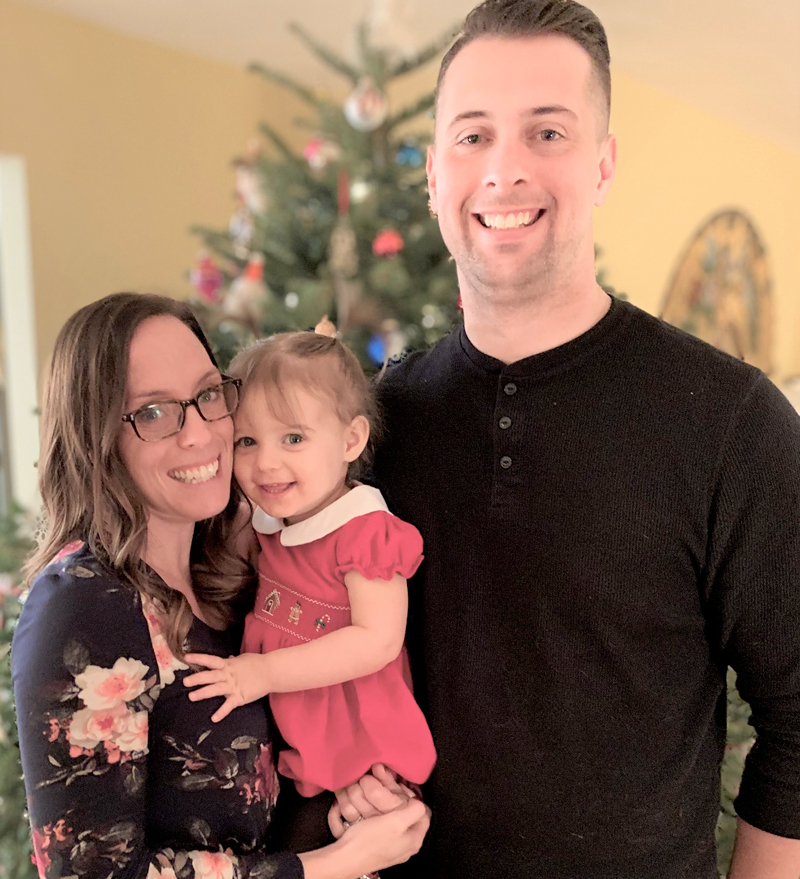 I am honored and excited to share a year in the life of a U.S. Air Force family. My husband is Staff Sgt. Will Thompson. He has been in the Air Force for nearly seven years. Here is a blog I wrote about the time period prior to Will's deployment in January 2020:
Will leaves for deployment in January and will be back sometime in July or early August 2020. I will be going home to be with family since I will be delivering our son while he is deployed. This is a hard topic to think about, but there'll be more on this later.
I am originally from northern Virginia, and my husband is from Maryland. While he was stationed with the Air Force Honor Guard at Bolling Air Force Base in Washington, D.C. in 2013, we met at a country line dancing bar – and have been two-stepping through life together ever since. Arizona was our first duty station, and it happened to be far away from our family. It was hard moving across the country. But we knew that was a possibility being in the military. We took on the adventure with open minds. I grew up an Army brat, so I knew what I was getting myself into marrying someone in the military. It is hard to believe, as I write this, that we have been in Arizona for three years.
Again, since I grew up military, it was a lot easier to adapt to such drastic changes. I was lucky and found out Luke Air Force Base in Arizona had a wives kickball league, which I joined the moment we got here. I met all my closest friends and my support group in this league. It is hard being uprooted; finding others to connect with makes it easier. The military tries to do a lot for spouses to help them find friends. There are programs, planned outings, Bible studies, etc.
I love sports, and the kickball league brought me my best friends. The bittersweet thing about it, is that once you find your best friends, they end up moving a couple years later. Having military friendships are very bittersweet, but I truly wouldn't have it any other way. I would have never met the amazing men, women, and children I've met without the military moving us here. It also showed me how strong I am. I was uprooted from my life I had known for over 30 years, and I made a new one I love just as much, across the country.
This is going to be our first deployment. Will has gone to trainings that have lasted up to three months, so we have practiced. But knowing he is going to be in a war zone can change the mindset. That is one reason I am moving back home. Since I have Lilly, my energetic almost-2-year-old, this is a great opportunity for her to be near family and for me to get a little help wrangling her while being pregnant. Being across the country makes visits scarce. I want her to have every opportunity to truly know and experience her family.
The other reason we are going home to Virginia during Will's deployment is that we are expecting another child. We are keeping this quiet, though, because I am only 9 weeks along. It will be nice to have family support during the first month of the baby's life because it is due in June, and Will won't be home until July or August. It also gives the family a chance to actually be there during the baby's first weeks — unlikely to happen if we were way out in Arizona. I am so lucky to have such a supportive family. But, I also know I would be fine if I stay in Arizona because I have such an amazing support system already set up here. I am sad my husband will miss the birth. BUT I am glad he will get to be there for the first year of the baby's life because he won't deploy again for at least a year. In the military, you have to find the silver lining :)!
Fast forward to spring 2020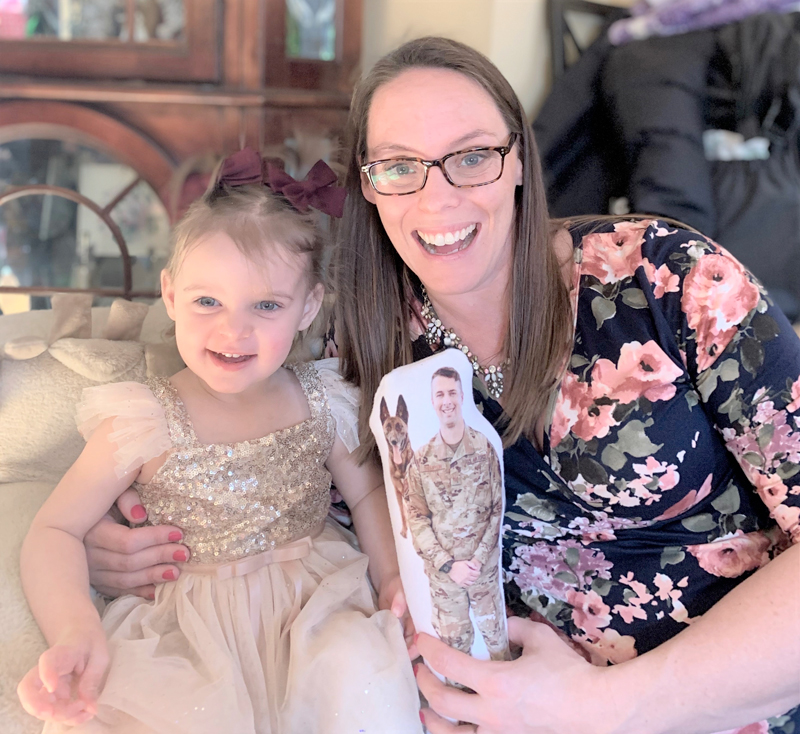 Sarah Thompson and her daughter Lilly, with Lilly's "Deployment Dada Doll"
Photo submitted
We have settled into our new routine here in northern Virginia. Lilly is loving being around her Mimi and Baba (my parents) every day. My sister got married right before Christmas, and it was so nice to not have to head back to Arizona right after. Will was able to attend the wedding but had to leave a couple days later. We were so lucky to share such a special time before we embarked on this deployment.
The hard part is he has already missed celebrating not just my birthday, but Lilly's 2nd birthday as well. We were lucky Daddy could FaceTime and sing happy birthday to her. He sent her the sweetest gift: a Deployment Dada Doll. It is a picture of him and his K-9 Ffrida (her name has a double first letter to show she was born and raised on Lackland AFB and not in another department or country), that she now sleeps with every night. Lilly says, "Goodnight, Daddy and Frifra" every time she goes to sleep.
I can't believe we are almost halfway there. We try not to think about how this new COVID-19 pandemic is going to affect us when he comes home. You need to focus on the day-to-day and always hope for the best – but in the back of your mind, you're preparing for the worst. That may sound morbid, but it is a reality you live. I KNOW he will be home safe, and I don't tell myself otherwise. But as a military wife, you have possible realities you have to prepare for that many others couldn't even fathom.
As the countdowns continue, two months until baby and three to four months until hopefully Daddy arrives, we are basking in the love and support of all our family and friends. I truly count my blessings, even though some may find it hard to see many blessings. But if I took the time to write all of our blessings, baby boy Thompson would be here already.
We are excited for summer 2020, as we get ready for baby boy Thompson in June – and hopefully Daddy's homecoming at the end of July or early August!