The long year of 2020 gave many people a chance to embrace their individuality during isolation and quarantine. While not being able to socialize and indulge in everyday events, virtual learning activities like TED Talks were universal hits with everyone staying at home.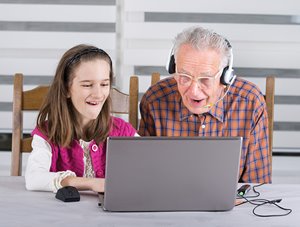 If you aren't familiar with or have never listened to a TED Talk, look up the most viewed TED Talk videos to get a sense of what these informational and relatable stories are. With views ranging from around 20 million to over 70 million, these inspirational stories give advice and help viewers understand the topic discussed. There are thousands of talks to choose from — just click on the topic that interests you!

TED Talks feature real people telling their real stories on stage with a small audience that laughs and cries with them. The talks are then posted to TED.com for anyone to view, and you don't need to log in or make an account to watch. The most popular talks feature scientists, psychologists, businessmen and women, doctors, influencers, and the leaders of tomorrow.

According to their website, "TED is a nonprofit devoted to spreading ideas, usually in the form of short, powerful talks (18 minutes or less). TED began in 1984 as a conference where Technology, Entertainment and Design converged, and today covers almost all topics — from science to business to global issues — in more than 100 languages."

Looking for positivity and happiness? Watch What Makes a Good Life? Lessons from the Longest Study on Happiness presented by psychiatrist Robert Waldinger, who is the director of a 75-year-old study on adult development. He uses his knowledge, wisdom, and data to determine true happiness and satisfaction with three important life lessons.

Need a burst of motivation? Tune in to career analyst Dan Pink's talk, The Puzzle of Motivation. With almost 27 million views, he examines what truly motivates people with an interesting study that demonstrates the powers of left-brain thinking vs. right-brain thinking.

Want to be and feel inspired? Listen to leadership expert Simon Sinek's powerful talk How Great Leaders Inspire Action. He explores how the world's greatest leaders can inspire cooperation, trust, and change by using examples like Martin Luther King, the Wright brothers, and Apple. Sinek studied the way these leaders think, act, and communicate — then codified it into a simple idea about leading by inspiration.

TED is a nonprofit devoted to sharing ideas for people who seek a deeper understanding of the world. They believe in the power of ideas to change attitudes, lives, and the world. TED is a global community with a mission to spread ideas, share knowledge, and inspire millions.