One of the hardest things about belonging to the American Legion Auxiliary (ALA) is trying to describe all the things we do because we do so many things. We have a large variety of services we provide for veterans, military, and their families.
Advocacy
The American Legion Family has a very strong legislative committee across the country that makes our voices heard on Capitol Hill. Every year, the American Legion sets a prioritized legislative agenda. American Legion Auxiliary members advocate for better care for our veterans in their communities across the country.
Certified VA Volunteers
The ALA is known throughout the country as certified volunteers at U.S. Department of Veteran Affairs health care facilities. ALA members go through a rigorous training program to volunteer. The annual impact is about $35 million in the value of volunteer service we bring to the VA. That's just for our volunteer service – providing care and comfort to patients to make life a little better for those visiting VA medical centers. Take a glimpse into the life of a VA medical center volunteer here.
Holiday Shops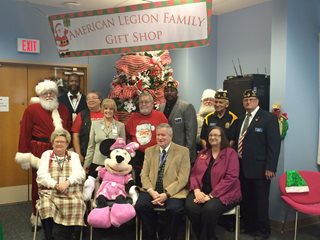 During the holiday gift-giving season, many veterans don't have the means to buy presentsfor their loved ones; so we open holiday shops in these health care facilities. These are big, scheduled, volunteer events where we donate items the veterans can select to give as gifts to their loved ones. Volunteers also offer gift-wrapping services and mail the gift if necessary. Probably not a lot of people know we do that, and yet, it's one of the things veterans in VA centers appreciate the most about what we do. Read more about our holiday shops here.
Job fairs for veterans
American Legion Family members work very closely with chambers of commerce across the country, promoting and participating in job fairs for veterans. For a list of upcoming job fairs, click here.