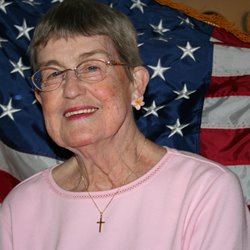 An American Legion Auxiliary member since 1932, Arizona Unit 62 member Lorita Holmes has seen quite a few changes in the American Legion Auxiliary and the world over the past several decades. But one thing hasn't changed — her dedication to the mission, not only of the Auxiliary, but of The American Legion Family. With 90-plus years of ALA membership, Lorita embodies what it means to be part of an organization focused on Service Not Self.


You became an ALA Junior member at 1 year old. Did your parents share with you later the importance of signing you up as a member at a young age?
My dad, George "Bud" Gilliland, was a World War I veteran, and my parents were both longtime members of The American Legion. My mom, Dolores Gilliland, wanted to instill in me the importance of patriotism and honor, so right from the start, she enrolled me as a member of an organization dedicated to those principles. I grew up in the Legion and Auxiliary, along with my younger brother.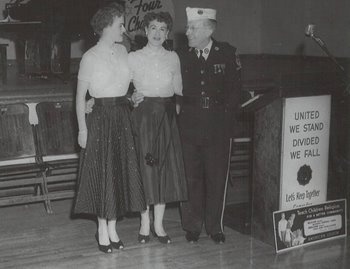 To put my years of membership into perspective, that same year I became a member, 1932, was when Amelia Earhart became the first woman to fly solo across the Atlantic, and Hattie Caraway was the first woman elected to the U.S. Senate, representing Arkansas.

The story of the Four Chaplains hits close to home for you. Tell us why.
On Feb. 2, 1943, the U.S.A.T. Dorchester, crowded to capacity with servicemembers, was torpedoed by a German submarine with devastating impact. Through the pandemonium, according to those present, four Army chaplains, from differing religions, brought hope in despair and light in darkness. As the ship went down, survivors in nearby rafts could see the four chaplains — arms linked and braced against the slanting deck. Their voices could also be heard offering prayers. Of the 902 men aboard, 672 died, leaving only 230 survivors.

My dad was department chaplain in 1954, and Mother and I used to sing together a lot. We assisted Dad by doing duets as part of the Four Chaplains programs he did to raise awareness for an organization dedicated to imparting the principles of selfless service to humanity without regard to race, creed, ethnicity, or religious beliefs.

Your father played a part in adding words to the Pledge of Allegiance. Can you tell us about that?
In the early 1950s, The American Legion sponsored the Back to God program as a crusade to bring the American people back to God, making America a great moral and spiritual force in the world. My dad had a big part in promoting the addition of "under God" to the Pledge of Allegiance. Inspired by Sen. Ferguson of Michigan, he actually drafted the resolution for it. With the support of The American Legion, service clubs, civic organizations, and lawmakers, the resolution was signed into law on June 14, 1954, by President Dwight D. Eisenhower. It's really quite monumental to think that people across the nation now take a moment to add two such important words to the pledge — thanks, in part, to my dad.

Tell us about one of your early memories of the Legion and Auxiliary working together, a Family trait that is still part of many posts/units today.
Somewhere along the line, my husband, Wally, joined the Legion post, and we both got involved. We worked our way up to commander and president at the same time, so in 1965, we had Glendale post's first joint installation of the post and Auxiliary. The highlight of the evening was that my dad and mother were our installing officers. We worked at getting the post and unit doing more things together and promoting harmony and new membership.

Marge Christianson is a contributing writer to this article.


Who inspires you? Do you know someone with an interesting background or spectacular life story? Contact us at ALAMagazine@ALAforVeterans.org or (317) 569-4500.